Scottish election: PM says Scots Tories can do better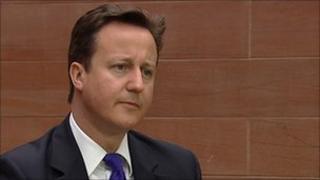 Prime Minister David Cameron has said Scottish Tories "can do better" by showing their "widely held" values to the rest of the country
Speaking to BBC Radio Scotland's Good Morning Scotland programme, he insisted that if you showed patience then you could perform better.
Mr Cameron praised Annabel Goldie, who is leader of his party in Scotland.
The UK Tory leader has been in Scotland over the last two days ahead of the Holyrood election on 5 May.
Mr Cameron told radio presenter Gary Robertson: "I am an optimist and I am a believer that if you show patience then actually you can perform better.
"In the end, the Scottish Conservatives can do a lot better because in the end I think the values that Scottish Conservatives hold, values of supporting families, believing in enterprise, and wanting a more dynamic private sector, of being fearfully proud of being Scottish, but also being passionate about our United Kingdom.
"I think those values are very widely shared in Scotland."
He went on to praise Miss Goldie, saying she was an "excellent leader" and had the kind of "gritty, realistic common sense" that people wanted to see in their politicians.
Mr Cameron called on the electorate to use their "peach-coloured" regional list ballot papers to vote Tory.
He said: "I urge people, whatever they do on the constituency vote, to vote Tory on the list because we will get more Conservatives and more common sense in the parliament."
The prime minister acknowledged that Scots were conservative in nature and it was important for his party to turn the "instinctive small c conservative" into votes.
He explained: "Many Scots here have a belief in family, a belief in enterprise, a strong belief in nation, a belief in what I call the big society, self reliance, doing more for ourselves and in our communities - those are strong Scottish values."
Mr Cameron said that unfortunately the Scottish Tories of the past had not "communicated well enough" those values.
'Very relaxed'
On the "spectre of Mrs Thatcher" he said that people were now looking to the "current and future" and not to the past.
Addressing the issue of Miss Goldie's support for aspects of the last SNP government, Mr Cameron said it was "entirely a matter for her".
Mr Cameron said: "I am very relaxed about Annabel making the decisions for what is right for Scotland.
"In a devolved system, you've got to believe in devolution head, heart and soul. You can't try and run things from London."
He also backed the Calman reforms to widen powers in Holyrood and to "make devolution work".