Scottish election: Gordon Brown on campaign trail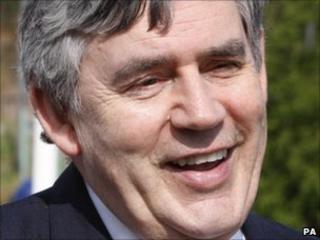 Former prime minister Gordon Brown has hit the Scottish election trail as campaigning continued ahead of the 5 May Scottish election.
The Scots Labour MP focussed on jobs, while deputy SNP leader Nicola Sturgeon outlined her party's pledge to protect NHS spending in the next parliament.
The Lib Dems' Tavish Scott was backing plans to boost sport.
And Conservative Derek Brownlee was discussing higher education funding policies.
Campaigning in Dunfermline, Fife, Mr Brown said the Scottish Parliament election was all about creating jobs.
"I've just been talking to people who are worried about the prospects for their children," said the Kirkcaldy and Cowdenbeath MP.
"The only party making jobs a priority, and it's in our DNA, is Labour.
"It's about creating jobs for young people. It's about making sure we have employment prospects for adults in this area and in other areas. It's about creating a quarter of a million jobs in the next 10 years."
Meanwhile, Ms Sturgeon met apprentices and contractors working on the construction of the new £842m Southern General hospital in Glasgow, due for completion in 2015.
She said the SNP, if re-elected, would protect the health budget with a £1bn spending increase, while cutting senior NHS managers by 25%.
Ms Sturgeon added: "There remains more to do to strengthen Scotland's recovery and continue investing in Scotland's health service.
"In a second term, a re-elected SNP government will provide the finance for the next phase in Scotland's infrastructure development.
"We will also ensure that the revenue budget of Scotland's NHS is protected in real terms."
Mr Scott was in Edinburgh to sign the "Vote for Sport" pledge, organised by the Scottish Sports Alliance, which urges politicians to act as "sporting champions" at Holyrood.
"Sport is more than taking pride in the achievements of Scotland's elite athletes," he said, adding: "Sport should genuinely be for all.
"Our policies would provide people of all ages with more chances to get involved at both the local and national level. We would support the immense contribution volunteers make towards making sport accessible for as many people of all ages as is possible."
On the education front, the Tories have backed graduate contribution capped at £4,000 per year for Scottish university students studying at home.
The Conservatives are the only party which does not support free higher education, saying the charges would stabilise the system and provide more help to the poorest students.
Tory finance spokesman Mr Brownlee, said: "It is clear that only the Scottish Conservatives are credible on higher education funding.
"Our plans will ensure our universities retain their excellence and can provide more bursary support for our poorest students."
Meanwhile, the Greens pushed their plans for a "true zero-waste Scotland" by fighting new mass-burn waste incinerators and supporting local recycling initiatives.
Candidate Kirsten Robb, said: "We want a Scotland that starts by reducing waste in the first place, not just burning it or sending it to landfill.
"There are hundreds of examples out there of community projects leading the way in sharing, repairing and reusing items, often saving people money in the process."