Scottish election: Parties begin Easter campaigning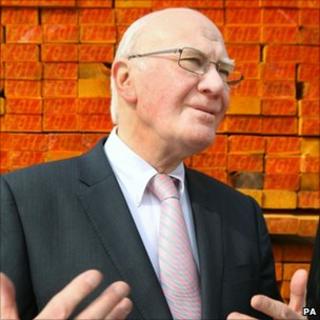 Campaigning ahead of the Holyrood election on 5 May continued as the Easter bank holiday began.
Scots Tory leader Annabel Goldie discussed the economy when she visited a biscuit factory.
Scottish Labour Leader Iain Gray met first-time buyers and SNP leader Alex Salmond met Erskine Home veterans.
The former UK Liberal Democrat leader Sir Menzies Campbell was due to visit a timber firm in Selkirk.
For the Scottish Greens, the party's co-convenor, Patrick Harvie, was in St Andrews to see an energy saving scheme in the town that has benefited from the Energy Network's "energy champions" project.
Miss Goldie joined central region list candidates Margaret Mitchell and Robert Crozier at the Tunnock's factory in Uddingston.
She said: "Tunnock's is an example of what can be achieved through sheer hard work and dedication.
"We need more Tunnock's in Scotland and where we can help is by creating a framework to let our economy flourish. That means helping businesses grow, to provide more opportunity and wealth for all."
Miss Goldie added that she wanted an "entrepreneurial, dynamic, thriving Scotland" that backed small businesses.
Sir Ming joined Lib Dem candidate Euan Robson on a tour of Oregon Timber Frame Ltd.
New products
The party is keen to show its support for small businesses like Oregan, which manufactures timber frames for the housing market.
The Lib Dems say its regional development banks will provide more accessible and personalised support for businesses and will work with colleges, universities and local authorities to deliver business lending, skills and training.
Sir Ming said: "It is great to see a successful business like Oregon launching new products on the market.
"I want to see more businesses like this getting access to lending so they can grow. Our regional development banks will step in where the banks have failed, delivering real support for business to grow.
"We have also identified £250m to spend on insulating homes and making them more energy efficient.
"This cuts domestic energy bills and creates jobs. Businesses like Oregon will see a real boost from Lib Dem plans."
Labour's Mr Gray and candidate Sarah Boyak met first-time buyers at a Barratt Homes site in Edinburgh.
They discussed the party's plans for a "first-foot" scheme to help people get onto the housing ladder.
He said: "First-time buyers are struggling to find deposits to get their foot on the housing ladder, with some banks asking for up to 25%.
"The industry needs a steady flow of first-time buyers to boost sales further up the chain.
"That is why I will introduce a first foot scheme to help 2,000 first-time buyers realise their dream of owning their own home.
"It will make deposits more affordable and the building trade will benefit if we see more sales as a result of the scheme."
Military tradition
Mr Salmond, along with colleague Keith Brown, met the veterans, staff and toured the garden centre of Erskine Home in Bishopton.
While on the visit, Mr Salmond said his party would continue to press the UK government to keep both RAF Leuchars and RAF Lossiemouth open.
He added: "Scotland's heroes deserve our support whilst in service and in society.
"The SNP government understands Scotland's military tradition and the covenant we have with our service personnel.
"The SNP is committed to doing all that we can, in partnership with organisations like Erskine and the armed forces community, to meet the needs of all of our servicemen and women, both past and present."
The Greens' Mr Harvie said his party wanted to increase the Climate Challenge Fund from the £37m previously agreed, to £125m in the next Holyrood session.
From his campaign call in St Andrews on Friday, he explained: "Scottish Greens now want to make good on the roots that the fund has laid down by putting in £125m over the next session to back projects on all levels, from small ideas that just need a little push to get started through to major new community projects that need substantial investment."