Scottish election: Holiday weekend votes bid ongoing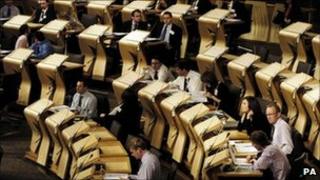 Politicians are continuing their bid this Easter weekend to win votes ahead of 5 May Holyrood election.
Liberal Democrat MP Danny Alexander was visiting a farmers' market in Boat of Garten, near Aviemore.
SNP leader Alex Salmond was campaigning on tourism in Aberdeenshire, and Labour leader Iain Gray has been meeting older voters in Camelon near Falkirk.
Scottish Tory leader Annabel Goldie was campaigning on respite care in Bridge of Weir.
She said the Scottish Conservatives wanted to provide extra respite care to enable dedicated carers to enjoy some much-deserved time off.
"Carers do a phenomenal job - if you are not one yourself then it is difficult to fully appreciate just how much strain and stress these dedicated people endure," she said. "Sometimes they feel isolated and unsupported, which must change.
"We value the contribution made by carers across Scotland and it is so important we express this properly. What we must do is offer them real help."
Mr Gray said Labour's manifesto for older people would offer "respect, support and dignity" for pensioners.
He said: "One of Labour's proudest achievements is the introduction of the concessionary bus travel scheme which has given thousands of our older people the freedom to travel across Scotland, and Labour will fight to protect it.
"Nowadays, people are fortunate enough to live longer and healthier lives, and pensioners deserve respect, support and dignity in old age."
Community event
The SNP published a list of 10 key pledges which a re-elected SNP government would undertake to boost Scotland's tourism industry, which the party said earns £4.2bn for Scotland a year and employs more than 215,000 people.
Mr Salmond said: "We are determined to maximise tourism growth and draw new visitors to Scotland. Tourism promotion will feature heavily in our 'All Scotland' approach to marketing Scotland abroad, bringing together important strands including culture, sport, outdoor activities and food and drink.
"A re-elected SNP government will continue to invest in developing our infrastructure - road, rail, air links and high-speed Internet - which will not only benefit the people of Scotland but also make our country more accessible to visitors."
Following his visit to an Easter market Eggstravaganza in Boat of Garten, Mr Alexander said: "It was great to meet so many people at this excellent community event.
"Every day I hear people raising concerns over SNP and Labour plans to centralise our emergency services and their fear that this will reduce local policing.
"The message coming loud and clear from communities like Boat of Garten is that people are saying no to centralisation and yes to local control over their vital services."