Scotland election: Easter push for Holyrood parliament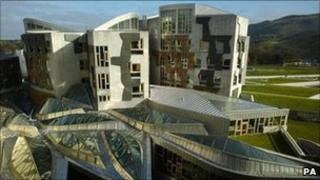 Politicians have hit the campaign trail on Easter Sunday in the race for votes in the Scottish Parliament elections on 5 May.
The SNP set out pledges to support young families in Scotland, while comedian Eddie Izzard joined Labour leader Iain Gray in Edinburgh.
The Conservatives said they were now actively targeting Liberal Democrat list votes.
The Lib Dems focused on volunteering to provide activities for young people.
With less than two weeks to polling day, the SNP vowed to make life better for Scotland's young families.
Deputy leader Nicola Sturgeon said: "When Surestart Centres are being cut in England, an SNP government will invest £50m in setting up new Surestart centres across Scotland to improve the life chances of our young children and to provide mums and dads with extra support.
"At school we will ensure the next generation has the best possible opportunity."
The Tories said they were seeking to attract Liberal Democrat voters.
David McLetchie, Scottish Conservative campaign manager, said: "They know we have delivered for Scotland over the last four years and that we will be pivotal in the next parliament.
"It is also clear that the Lib Dems are in freefall with voters deserting them in droves."
Campaign style
Meanwhile, David Cameron accused SNP leader Alex Salmond of running a presidential-style campaign.
The SNP insisted the list vote was instrumental in the parliamentary process of choosing a first minister.
Labour MP Tom Greatrex said: "No-one is going to be fooled by David Cameron's hollow attack on Alex Salmond because he is desperate for the SNP to stop a Labour victory."
Campaigning for Labour in Edinburgh, comedian Izzard said: "I am a big Labour supporter because I think they have the right ideas right across the country."
The Lib Dems pushed their volunteering message on a visit to a scouting activity centre in Fife.
Candidate Jim Tolson said: "Activity centres like Fordell Firs provide children and young people from all sorts of backgrounds with the chance to take part in action-packed activities which can help teach vital life skills like team-building and working together.
"Volunteers are vital to this work. Liberal Democrats want to encourage people across Scotland, especially young people who are finding it hard to get on the job market to volunteer at places like this."