Scottish election: The perils of dogs and men in pants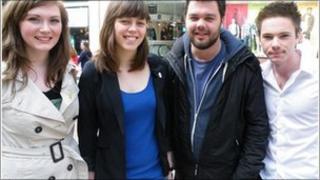 Scotland's political parties are deploying activists across the country, to try to find out what we think. But what is it like to pound the pavements, and what do people do when the canvassers come calling?
I picked an attractive, quiet, residential street on the outskirts of Aberfoyle.
It had been a lovely sunny day and the pavements, driveways and gardens were littered with signs that people had been out enjoying the weather.
But, strangely, quite a lot of them chose not to answer the door, when they saw me standing there. Who can blame them, some might say.
But it was the first hint that the canvasser's lot is not always an easy one.
Everyone who did actually talk to me was polite, as you'd expect.
So had there been many activists round, trying to find out which parties residents here planned to vote for?
The first lady thought for a minute.
"There was one, but I told him it was none of his business."
No-one in at the next couple of houses.
Then one man tells me I ought to talk to the wife, not to him. But she's on the phone.
Then I spot a group of guys out in the garden, alongside a house across the street. They've noticed me, and are obviously wondering what I'm up to.
So I wander across, and have a slightly odd shouted conversation over the fence.
No canvassers have called, one man tells me.
"They put their leaflets through the door, and they went away."
But they're going to be on holiday on polling day anyway, he adds, so they're not going to be voting.
'We don't vote'
A couple of houses further on, and I encounter my first dog.
It's safely in the garden, but barks loudly throughout the conversation, as I show my BBC identity card and explain why I'm there.
"Sorry, but we don't vote," the lady of the house shouts from a back room.
The man I'm talking to repeats the sentiment, then goes on to explain why.
"All politicians are liars."
So, I wondered, if I'd had a clip-board instead of a microphone and a party rosette instead of a BBC pass, what would he have told me, if I'd come asking for his support?
"I'd tell you maybe. Maybe."
But, in fact, he's probably not going to vote for anyone?
"Probably not," he confirmed.
'You're alright, thanks'
Another house with no-one home, but two dogs snarling through the living room window, and scrabbling on the window sill as though they're desperate to get at me.
Then a man answers the door in a football top. I start my spiel, but he interrupts halfway though. "No. You're alright, thanks."
Had he had many people round, wondering how he was going to vote? Again the response was the same. "No. You're alright, thanks."
So, what would he say to them if they came to the door? "Bye." And with that the door was politely, but firmly, shut in my face.
Turning the tables
A couple more houses with dogs.
Then a lady who had had two sets of canvassers round - from the SNP and the Liberal Democrats.
But she had turned the tables on the activists.
"I asked them to tell me about one thing that had affected me recently in this area."
As a single mum she'd wanted to see if they knew about the planned closure of local after-school clubs, as a money-saving exercise.
But they didn't. So she'd sent them away.
"If they don't even know what's going on in the area," she explained, "I'll take my judgement from that."
It mattered so much, she said, because the lack of child care locally meant she was having to give up her job once the after-school provision comes to an end.
So her advice to the next set of canvassers? "Learn, before you go chapping doors. Find out what's going on."
Skimpy black thong
But what's it like to be one of the canvassers?
Two major themes emerged from the student activists I spoke to. Dogs. And (male) constituents who answer the door wearing only their underpants.
I even heard about one man who wanted to talk politics, while dressed only in a skimpy black thong.
The details of that encounter must remain strictly off the record.
But one activist told me he'd learnt how to cope, if anything like it should happen to him.
"As long as you look up, it's alright."
Four young political activists told BBC Scotland what it is like to talk politics to strangers on their doorsteps: