Scottish election: Holyrood battle drive steps up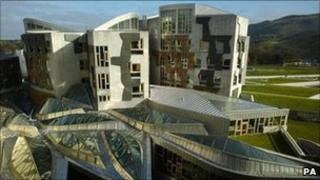 Labour has sought to refresh its Scottish election campaign with an all-out attack on the SNP and independence.
Ahead of voting on 5 May, party leader Iain Gray said a referendum would put economic recovery at risk.
SNP leader Alex Salmond said Labour's "panic" event had "holed its campaign below the waterline". The Lib Dems said Labour had "nothing to say".
The Conservatives said neither Labour nor the SNP had properly costed their manifestoes.
Kicking off the final 10 days of Labour's election campaign with a speech in Glasgow, Mr Gray said his party's manifesto was a plan for jobs and a fairer country, with the guarantee of an apprenticeship, halving cancer waiting times and tough action on knife crime.
He added: "Alex Salmond has offered nothing new in this election. No new ideas. No plan for jobs. Nothing to say and no way to pay.
"He will say anything to anyone to make his vision of independence come true, no matter the economic cost.
"The risk is real. Don't let anyone tell you different - to rebuild our economy we need investment from abroad and investment at home."
Mr Salmond, who was campaigning in Aberdeen, said the attack came on the day that Aberdeen Asset Management chief Martin Gilbert endorsed his re-election as first minister, while financial entrepreneur, Jim Spowart, who founded Intelligent Finance, also gave his support to the SNP.
'Positive leadership'
"Labour's panic re-launch has been holed below the waterline," said Mr Salmond.
He added: "Labour have abandoned their losing 2011 campaign theme of focusing on Westminster, and are reverting instead to their losing 2007 campaign of bashing the people's right to vote on independence in a referendum - even though every survey of public opinion demonstrates the popularity of a referendum to choose Scotland's future.
"Labour's re-launch is doomed to sink, because it is totally negative - at a time when the people of Scotland want positive leadership."
Elsewhere on the campaign trail, Liberal Democrat president and MP Malcolm Bruce was also campaigning in Aberdeen, with former MSP Lord Stephen, on a fair funding deal for local authorities.
The party wants to ensure that no authority receives less than 90% of the average revenue support grant per head.
'Fit for life'
"In Scotland, only five out of the 32 councils suffer this low level of funding," said Lord Stephen.
He added: "It costs just as much to deliver education and care services in the North East, but Aberdeen gets 82% of the national average funding, while Glasgow gets 120%."
Tory leader Annabel Goldie was in Edinburgh with former Scotland rugby star Gavin Hastings to highlight the party's "fit4life" sports message, to get Scots healthier and secure a lasting legacy from the forthcoming Glasgow Commonwealth Games.
"What a chance to inspire an entire generation of young Scots and encourage them to lead active, healthy lifestyles," said Miss Goldie.
"It is common sense to seize the opportunity for a healthier Scotland, to make our country fit for life. With this manifesto, that's exactly what Scottish Conservatives will do."
And former Green MSP Robin Harper went to Largs to highlight the party's continued opposition to the proposed new coal plant at Hunterston.
On the eve of the 25th anniversary of the Chernobyl nuclear power station disaster, the party pledged to put energy choices at the heart of any post-election negotiations - insisting it would not support any Holyrood administration which backed new nuclear or coal plants, or the extension of existing nuclear facilities.