Scottish election: Party leaders campaign in cities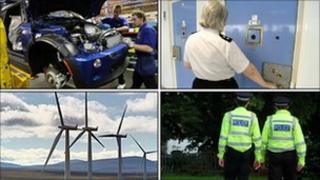 The latest stage in the campaign for the 5 May Scottish election has seen issues of police, energy, prison sentences and jobs coming to the fore.
Shadow Chancellor Ed Balls attacked the SNP's independence referendum vision.
Meanwhile, Alex Salmond unveiled SNP plans for all Scotland's electricity to be met from renewable energy by 2020.
Lib Dem leader Tavish Scott argued against a single Scottish police force, while Tory leader Annabel Goldie focussed on short prison sentences.
Miss Goldie said her party would bring back short-term jail sentences of three months or less, which were "abolished" by the SNP and Lib Dems in the last parliament.
After a visit to Barlinnie Prison in Glasgow, she explained: "It has been clear for some time the much-heralded community-based alternatives to prison idea has severe flaws, as figures published last December showed that in almost two thirds of local authorities, community sentences aren't starting in time.
"So, why then are we putting more strain on this system by emptying Scotland's jails?
"We want community-based sentences to be tough, fast and effective. But it is wrong to disregard prison.
"That is why we will restore custodial sentences of three months or less as an option, backed up with proper rehabilitation that starts in jail. You don't cut crime by cutting the prison population, you cut the prison population by cutting crime."
Continuing the justice theme, Mr Scott was in Inverness to say his was the only party campaigning against a single, national police force, which has been advocated as a vital cost-cutting measure.
He said: "Scotland's top police officers warn that 3,000 officers would be lost with a single police force.
"So, SNP, Labour and Tory policies on police numbers and crime are bogus and misleading - anything those parties say on police numbers should be taken down and used in evidence against them."
Mr Balls hit the campaign trail in Scotland to re-iterate Labour's message that a referendum on Scottish independence would hit the economy.
Attacking both the UK and Scottish governments, he said: "Just as George Osborne cutting too deep and too fast has seen the economy stall and unemployment go up, so Alex Salmond's obsession with an independence referendum also puts the recovery at risk.
"There are different ways to attract investment - but there is one sure-fire way to put investors off, and that is for the SNP to spend the next five years in the Scottish Parliament trying to split up the United Kingdom.
"No part of the UK can afford the instability and warning sign to investors that the SNP's obsession with a referendum on independence would bring."
Meanwhile, Mr Salmond said SNP plans to generate the equivalent of 100% of Scotland's own electricity needs from renewable sources by 2020 were "ambitious but achievable".
And he said the plan had been described by Ignacio Galan, boss of the world's largest wind energy developer, Iberdrola, as "entirely credible" and was also backed by other leading industry figures.
Mr Salmond said: "We are well on the way to meeting 100% of electricity needs from renewables, and ensuring that Scotland continues to be a major energy exporter.
"The SNP have already proved our renewable energy credentials by approving a record 42 new renewable projects in our first term in office - double that of the previous administration.
"And we have seen a significant increase in the proportion of our electricity generated from renewables. A re-elected SNP government will continue this rapid progress."
Meanwhile, the Greens launched their mini-manifesto for the rural economy, which includes an £80m-a-year fund to support small farmers, crofters and new entrants to the industry.
Co-leader Patrick Harvie, said: "Hundreds of millions of pounds is handed out to Scotland's big landowners and industrial agribusiness each year, yet organic and sustainable food production for strong local food networks remains the best future for this country's agricultural sector.
"Organic production of food is ever more important nowadays as oil prices rise, and locally grown, organic and non-intensive food production will play an increasingly valuable role in helping to keep our nation's food bills low, our population healthy and our rural economy vibrant and successful.
"Small producers are becoming more and more important in this regard, so it's time the balance was swung in their direction."