Scottish election: Politicians turn to eco-community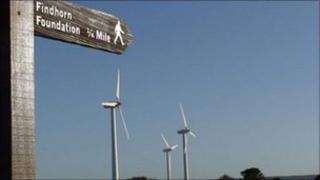 With the Holyrood election campaign in its sixth week, the BBC's Good Morning Scotland reporter Kevin Keane continues his journey to find out what matters to ordinary members of the country's electorate.
In tranquil surroundings on the Moray coast, the Findhorn Foundation's eco-village is now home to some 400 people.
Set up in 1962 as a spiritual community, it began in the 1980s to evolve into the community it is today.
One of the core values is sustainability, in fact they were recently reported as having the lowest ecological footprint in Europe.
Now this community wants governments - themselves champions of sustainability - to learn from their model.
I asked trustee Michael Shaw if he thinks Findhorn is an example which can be replicated by other communities.
He told me: "I would say the answer to that is yes and it's not so much imposing or achieving but them choosing to do it.
"There are government incentives there as well as just the whole ethical and spiritual incentives, which we are very much into here, as to why people should take that type of attitude.
"A couple of islands off the west coast have been pretty good; Eigg for example has its own renewable energy system so there is no external power, and a number of islands, because of their very strong winds, have a very strong renewable energy programme which works for them economically as well as physically and ethically."
The Findhorn Foundation is often called on to report to government bodies on sustainability, based on what it has developed and learned over the past three decades.
Resident Michael Mitton, who was born here before moving to America and eventually returning, says they have a lot of knowledge to offer.
He explained: "I think what we have here is a place which has been really pioneering certain aspects of sustainability for decades and so we have a lot of experience on the ground of finding the stuff which has worked and also the stuff which hasn't worked.
"You can walk around here and I can show you half a dozen mistakes that we have made.
"But that's great because we have made those mistakes for everyone else now."
Sustainability is a regular dinner table topic for leading politicians and in the kitchens of the Findhorn Foundation the community is working hard to help the planet.
Head of the kitchen, Thomas George, said: "We are not perfect by any means but are definitely making progress.
"We have erected four of our own wind turbines so we are now net exporters to the grid and produce our own electricity.
"So, we are definitely doing small things which could be replicated in communities across the country."
The eco-homes are properties with huge south-facing windows, wood chip heating and solar or wind power; one I saw was selling for more than £300,000.
The foundation is growing considerably with plans for another round of house-building on neighbouring land.
Its ultimate aim here is that eco-living will eventually become the norm.