Scottish election: Do homeless people have a voice?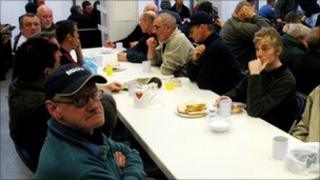 BBC Scotland has been focussing on the views of voters in the run-up to the May 5th election. But what about those who say they're marginalised and excluded from politics?
The only way in to Glasgow City Mission, when they serve their evening meal, is to join the queue of homeless people waiting outside.
I was lucky. I was there for work. To interview people.
But joining the line made me think about what it must be like to go there because you need to be there.
To decide this is who I am now, and what my life is going to be like.
The welcome at the door is warm, the room is bright and the food is good.
Talking to people, I soon find that "homelessness" is complicated.
Not everyone who is here is a rough sleeper. Some have their own flats, now. Some are staying with mates and some are in hostels.
But everyone has had the experience of being without a home of their own.
And there is almost universal agreement that politicians can't possibly understand what that's like.
Roy tells me he's originally from Aberdeen. He's been homeless in the past. And like many people he's disenchanted with politicians.
"If you look at them, they're all lawyers and solicitors. You know, top of the range jobs."
That means, Roy says, that they can't know what life is like for people like him.
"You've got to walk the walk, before you can talk the talk."
Robert's living in a hostel, after he felt forced out of his flat in the Maryhill district.
He's very clear how he'd like to get politicians to empathise with the homeless.
"I'd put them on the broo [benefits], put them in a hostel, and let them realise what it really is all about."
'Nobody worth voting for'
And Willie is also in a hostel. He's been there since he came out of prison in January. He says he's "sober-ish. Sober enough."
And he won't be voting on May 5th.
"There's nobody decent. Nobody worth voting for."
Andrew Low, chief executive of the Mission, says those attitudes shouldn't be a surprise.
"Many of our clients don't believe they're going to be heard, and therefore they're less inclined to be involved."
But Glasgow City Mission was one of a number of organisations that helped the homeless to take part in the 2011 census.
More than 100 homeless people in Glasgow alone filled in census forms, after the Registrar General asked charities for assistance.
That means information gathered from those people can filter in to political decision making, even if the individuals themselves don't chose to engage.
"If these folks aren't counted, if their views aren't sought, if people are not aware of those needs, then can we blame governments when they don't spend money to try and address these issues?"
"The first thing, of course, is ensuring that they are noticed, That we don't cross to the other side of the road, and walk by them."
The Glasgow Simon Community runs a soup kitchen in the city centre.
Home-made cake
Willie McBride, head of the Street Service, told BBC Radio Scotland's Good Morning Scotland programme: "It's really hard to engage with the political process.
"You really need a letter box, and somebody posting a letter to you, inviting you to the party.
"If you're not even invited to the party, you're really on the margins. You're most definitely disenfranchised, politically."
Soon after 9pm, about 30 people have gathered on the steps of a rather smart office block in Glasgow city centre.
Volunteers give out cups of hot tomato soup, and delicious home-made Black Forest cake.
Nicky tells me he "skippers" [sleeps rough] a few nights a week. The rest of the time he stays with his girlfriend, at her flat.
He's definite. Politicians haven't got a clue what life is like for him.
"See when you're selling the Big Issue, it's always working class people will buy it, and help you out.
"Rich people walk by you with their nose in the air."
"And see these politicians. There is no way you could get them to understand."
Janet is one of very few women who've turned up at the soup kitchen.
She says it would be good for politicians to come and see the soup kitchen, and meet the homeless people who rely on it.
"My life is hell at the moment. And I'd tell them my life's been hell."
And Andy tells me he had many years of rough sleeping.
"I would ask a politician to give up their house, for a month. And come to places like the soup kitchens. And sleep the way people here sleep at night."
And the offer is there, on the table, to any candidate who wants to take up the challenge.
Andy says he'd take them round the sites where people stay.
"They're infested with rats. Plus there's dirty needles lying about, and things like that. It's dangerous, sleeping outside."