Scottish election: Holyrood campaign enters final day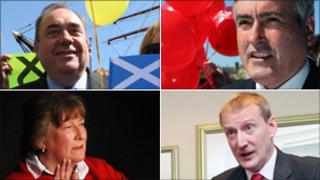 Scotland's main political parties have hit the campaign trail in the final hours before Thursday's Holyrood parliament election.
SNP leader Alex Salmond and Labour rival Iain Gray are criss-crossing the country, hitting key seats in the fight for votes.
Tory leader Annabel Goldie and the Lib Dems' Tavish Scott are also appealing to the public to back their parties.
The SNP is seeking a second term in office, after winning in 2007.
Mr Gray has embarked on a 700-mile round trip of Scotland, due to end in East Lothian, the seat in which he is standing, at midnight.
He said: "Labour will not take a single vote for granted and we are fighting hard so on Friday we can put our plan for jobs into action.
"I will spend 40 hours non-stop taking our message right across Scotland.
"Every waking minute from now until polling day, I will be out on the campaign trail and pushing the case for jobs, jobs, jobs."
Mr Salmond, who is touring battleground constituencies on the way home to his Aberdeenshire East patch, said: "Across the country, the SNP is working right up to the wire to win both votes for a re-elected SNP government and a five-year council tax freeze."
He was speaking as 200 figures from businesses across Scotland declared support for the SNP in a full-page advertisement in The Scotsman.
'Decide the balance'
The list includes leading names from the largest enterprises to small businesses, which the SNP says have benefited from its policies.
Miss Goldie unveiled a giant peach ballot paper on Edinburgh's Calton Hill, in an appeal to voters to back her party in the regional ballot.
The Tory leader, who was joined by campaign manager and Edinburgh Pentlands candidate David McLetchie, said: "The peach ballot paper will decide the balance of the next parliament.
"No one party will have a majority.
"Scottish politics needs somebody who will stand up to the excesses of nationalism and socialism. That somebody is me."
'A choice'
Mr Scott joined Jeremy Purvis, candidate for Midlothian South, Tweeddale and Lauderdale, at an event at the downhill mountain biking track at Innerleithen.
He said: "On Thursday, voters have a choice.
"A vote for the Lib Dems is a vote for local police officers in our communities.
"It's a vote for a government focused on jobs and restoring excellence to education."
Meanwhile, the Greens are meeting students in Edinburgh and are also asking voters to back them in the second vote.