Loose granite closes Scottish Parliament bar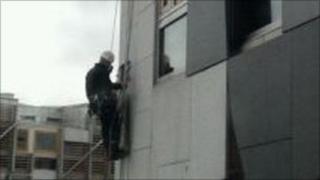 A granite block came loose on a Scottish Parliament wall and was left hanging 20ft above the glass roof of the MSPs' bar and restaurant.
The area was closed as a precaution and contractors were brought in to remove the piece of stone safely.
The £431m Holyrood building has faced a series of problems including leaks, flooding and a loose beam.
In 2006 the debating chamber was closed for two months after a 12ft-long wooden roof beam swung loose during a debate.
Structural engineers are to examine the piece of granite cladding, which is about a 1ft 6in (45cm) long.
A parliament spokeswoman said: "At 1.30pm today it was reported that a small Kemnay granite panel that forms part of the cladding on the edge of Tower 3, between the 3rd and 4th levels, had partially detached.
"By 2.40pm the panel was secured and work is underway by high level technicians to lower it under control."
She said following health and safety assessments the parliament closed the kitchen of the members' restaurant as a precaution.
Health and Safety Executive will be informed about the incident.