MSP Alex Fergusson gives away presiding officer pension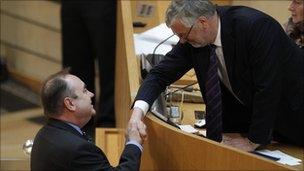 The former presiding officer of the Scottish Parliament, Alex Fergusson, is giving his pension to charity.
The Tory MSP, who has become the first former PO to return to Holyrood as an elected member, is entitled to about £20,000 a year as a former post-holder.
But Mr Fergusson said he did not want to benefit from the pension while earning an MSP's salary.
He will donate the money to charities in his Galloway and West Dumfries constituency.
Explaining his decision, Mr Fergusson, who served in the politically-neutral job of presiding officer from 2007 to 2011, said: "I fully recognise the presiding officer pension was put in place with an expectation that the retiring presiding officer would be stepping down from politics.
"I also recognise that the rules have now been changed so that no presiding officer from now on will receive the presiding officer pension until they are in receipt of a normal MSP pension."
Mr Fergusson went on: "I see no point in the money sitting in a pension fund to the sole benefit of the fund managers, when it could be put to good use elsewhere."
The former farmer is currently working on the details with parliamentary officials in an effort to set up a "give-as-you-earn" scheme, to be administered by the Charities Aid Foundation.
The move will ensure the charities will also get the tax that would have been payable on the pension income.
Since the Scottish election, Mr Fergusson has made a return to front line party politics, becoming Scottish Tory rural affairs spokesman.
Related Internet Links
The BBC is not responsible for the content of external sites.