Scottish government moves against UK Supreme Court
By Andrew Black
Political reporter, BBC Scotland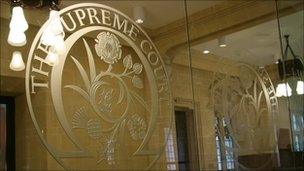 The Scottish cabinet is taking action to stop the UK Supreme Court in London getting involved in criminal cases north of the border.
SNP ministers said the independence of Scotland's legal system must be defended in the wake of several high-profile rulings.
Scotland has its own, distinct court of criminal appeal.
But the Supreme Court can currently rule on cases where Scots law conflicts with human rights legislation.
The Scottish cabinet will discuss "possible remedies" at its regular weekly meeting on Tuesday, following a ruling in the Nat Fraser case.
Fraser was jailed for life in 2003 after being convicted of murdering his wife, Arlene, in Elgin.
Having exhausted the appeal process at home, the 52-year-old won an appeal to have his conviction quashed when Supreme Court judges remitted the case to the Scottish Court of Criminal Appeal.
Ministers in Edinburgh said the Scottish legal system should have direct access to the European court in Strasbourg, as was the case for other legal jurisdictions.
Tuesday's cabinet meeting is also being attended by Scotland's top prosecutor, Lord Advocate Frank Mulholland.
A spokesman for Justice Secretary Kenny MacAskill said: "Scotland's distinct legal system, including our criminal law, has served our country well for centuries, ensuring justice for victims while also protecting the rights of those accused of a crime.
"We believe the UK Supreme Court should have no role in matters of Scots criminal law - a view supported by Scotland's leading legal figures."
They include the former lord advocate, Elish Angiolini, and QC Paul McBride, who have expressed concern about the Supreme Court's role.
In 2009 it replaced the Law Lords as the last court of appeal and was designed to deal with all matters, other than criminal cases in Scotland.
Last year, the Scottish Parliament was forced to rush through emergency legislation in the wake of another Supreme Court judgement, which became known as the Cadder Ruling.
It stopped police in Scotland being able to question a suspect without first offering the option of legal advice.
Meanwhile, Nat Fraser has been remanded in custody until 8 June, when he will be told whether he faces a retrial.
Related Internet Links
The BBC is not responsible for the content of external sites.