SNP concern over imminent RAF cuts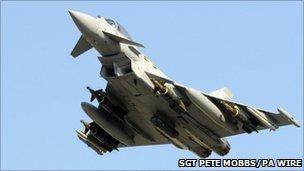 The Ministry of Defence could be about to announce "massive and disproportionate" RAF cuts in Scotland, according to the SNP.
Westminster SNP leader Angus Robertson said he believed an announcement on plans to close a second Scottish military airbase was imminent.
Under a UK government review, RAF Kinloss is already to be axed with the cancellation of the Nimrod contract.
Concern remains over the fates of Lossiemouth and Leuchars.
Mr Robertson said the joint closure of RAF Kinloss and RAF Lossiemouth would constitute a 74% cut in RAF personnel in Scotland.
The joint closure of RAF Kinloss and RAF Leuchars would constitute a 53% cut, he added.
"Our defence communities are braced for bad news, they have been treated appallingly by the UK government throughout this process, and they now deserve certainty over their future," he said.
"There is no strategic or defence reason why the Ministry of Defence should consider massive and disproportionate cuts to the RAF in Scotland, while concentrating basing, spending and manpower in the south of England.
"Given Scotland's geographic location and the increasing importance of the high north it makes no sense for Whitehall to make swingeing cuts to capability, personnel and bases.
"How can a cut of up to 74% in Scotland be justified?"
Mr Robertson contrasted Scotland's situation with Nordic countries, claiming they had similar strategic priorities and yet maintained more airbases and more aircraft.
Actor Ewan McGregor and his brother Colin, who is a former Tornado pilot, have added their voices to the appeal to save RAF Lossiemouth.
Trainspotting and Moulin Rouge star Ewan, who is originally from Crieff, said: "It is simply unimaginable for RAF Lossiemouth to be closed as an airbase in addition to RAF Kinloss only a few miles away.
"No other part of the country is facing such devastation and Prime Minister Cameron needs to understand this.
"Anyone who has been to the north of Scotland understands how important this is.
"Having had the good fortune to fly in a Tornado with Colin I know how critical the retention of RAF Lossiemouth is for the whole region."
His brother, who has just returned from Afghanistan where he visited 617 Squadron, added: "RAF Lossiemouth is the most capable military airbase in northern Europe and it makes no sense to close it."
Shadow Secretary of State for Scotland, Ann McKechin, said: "From start to finish the defence review has been conducted at reckless speed with George Osborne in the driving seat, fuelled by his desire to cut faster and deeper than is safe."
She said the consequences would be catastrophic if either of the bases was allowed to close.
"If any Scottish base is to close then we must have a clear undertaking from the UK government that these communities will be treated fairly and an immediate action plan is put in place to support people locally," she added.
Related Internet Links
The BBC is not responsible for the content of external sites.