Alex Salmond welcomes North Sea oil sector investment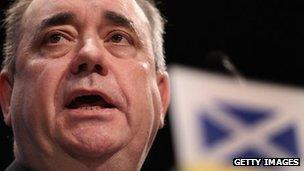 First Minister Alex Salmond has welcomed further North Sea investment which is claimed to be worth £630m.
Oil and gas operator Taqa is set to spend the money in the next two to three years.
The news was delivered during Mr Salmond's five-day trip to the oil-rich nations of the Middle East.
The first minister also toured the Masdar Institute of Science and Technology in Abu Dhabi, saying links could be forged in renewable energy.
Leo Koot, a managing director at Taqa, said his company had already invested more than one billion dollars of capital expenditure into the North Sea sector over the last three years.
He added: "Taqa continues to invest heavily in the future of its UK North Sea business, with capital expenditure for the next two years at broadly similar levels to 2010 and 2011."
Mr Salmond said the investment news represented a further boost to North Sea oil industry.
He added: "This is further proof that there are opportunities for exploration and delivery which will take the industry forward for another 40 years.
"This significant investment and the jobs it will bring will be a boost to growth in Scotland, and the company's ongoing commitment in the North Sea and the north east will have the added impact of boosting confidence in the sector."
After his tour of the Masdar Institute of Science and Technology, Mr Salmond said a "framework for action" between Scotland and Masdar was in the pipeline.
Dr Sultan Ahmed Al Jaber, chief executive of Masdar, said: "Masdar is pleased to partner with Scotland on a number of upcoming renewable energy initiatives.
"During First Minister Alex Salmond's visit today, we discussed a number of areas of collaboration and I look forward to working closely with him over the coming months to move these ideas forward.
"Scotland is a leading player in the renewable energy field and we are delighted to combine our knowledge and experience through this mutual and beneficial partnership."
The SNP leader is due to visit a Heriot-Watt University campus in Dubai later this week. The visit to the Middle East has also involved talks on infrastructure investment in Scotland.
Related Internet Links
The BBC is not responsible for the content of external sites.