Scots Lib Dem leader Rennie sorry for Salmond cartoon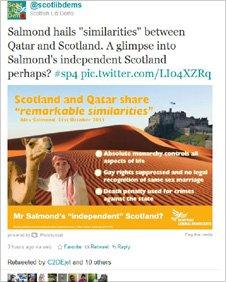 The leader of the Scottish Lib Dems has apologised for a cartoon published online by the party which depicts the first minister in Arab dress.
Willie Rennie said he was very embarrassed by the actions of staff.
The cartoon, mentioning the death penalty and gay rights, was produced after Alex Salmond hailed similarities between Scotland and Qatar.
He is on a five-day trip to the Middle East, speaking to politicians and business people.
Mr Rennie told BBC Scotland's Good Morning Scotland programme that the cartoon was published by staff onto the Scottish party's Twitter and Facebook accounts while he was on a day off.
The picture was withdrawn and Mr Rennie told his Twitter followers: "I apologise for the offence that has clearly been caused by our cartoon on the first minister's remarks in Qatar.
"Although I did not approve its publication I accept responsibility for it.
"It has been interpreted in ways that were not intended. It has now been withdrawn. I apologise."
Mr Rennie explained to BBC Scotland radio presenter Gary Robertson that "internal discussions" had taken place and would continue to take place on the "approved procedure" system at the Scottish Lib Dem headquarters.
He said: "I actually tried to take some time off yesterday and this went through the net, I am afraid, and I apologise to anyone who has been offended by it - it wasn't right and it shouldn't have gone out."
Mr Rennie, who took over his party's leadership after election in May, added that he was embarrassed by the cartoon which had not been approved by him.
He said: "It is actually not right to compare countries like that in the way that we did so I think."
Mr Rennie went on to say that he was frustrated that the cartoon controversy had overshadowed the party's announcement on its "home rule" commission.
The former leader of the Liberal Democrats Sir Menzies Campbell has been appointed to chair the group which will set out a long-term vision "for a strong Scotland within the UK".
Related Internet Links
The BBC is not responsible for the content of external sites.