Whipping up a storm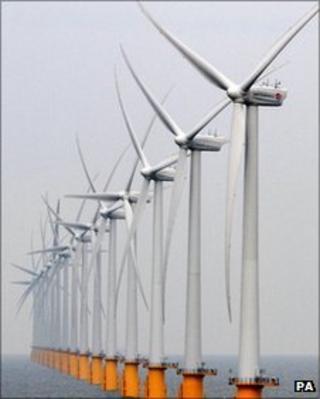 As so often in both politics and business, it is, I suppose, a matter of confidence.
Are we optimistic or pessimistic about Scotland's renewable energy prospects?
In particular, turning to the analysis published by the finance conglomerate Citigroup, what impact do we believe independence or the prospect of independence will have on that sector?
On Good Morning Scotland this morning, Alex Salmond was robust in dismissing the warning in the Citigroup report that Scotland might not be a good bet for renewable investment, partly because of what they characterise as the "political risk" associated with a referendum.
Broadly, the report makes two points;
that a referendum of itself is destabilising
and that an independent Scotland would not have the resources to fund the level of investment and subsidy required by a big increase in reliance on renewables.
In response, Mr Salmond, again broadly, makes two points;
that global energy companies are investing hugely in Scotland right now, with the referendum plainly in sight
and that Scotland's contribution of marine renewables in particular will be available for export, attracting demand across Europe and thus funding.
The Citigroup report says investors should "exercise extreme caution" before investing further in Scotland, citing in particular SSE and Scottish Power who, it says, may "already be over exposed to these risks".
In response, Mr Salmond says the report's premise is simply wrong - and that, instead of heeding the future forecast of one analyst, we should "read the book" written by existing global companies investing heavily in Scotland's prospects, apparently undeterred by the prospective referendum.
For opposition parties, a dilemma.
Do they seize wholeheartedly upon the report's analysis as part of a continuing campaign against independence?
Or do they moderate their tone for fear of an accusation that they are in some way "talking Scotland down"?