Maintenance bill for Scottish Parliament to increase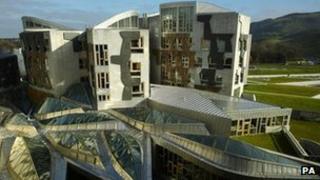 MSPs have been warned to expect a bigger bill for the upkeep of the Scottish Parliament.
As the building, in Edinburgh's capital, begins to age, the cost of maintenance is set to increase.
The message was given to Holyrood's finance committee and was delivered by MSP Liam McArthur and the parliament's chief executive Paul Grice.
They revealed that the maintenance budget next year would be about £685,000.
This year £75,000 was spent on maintenance.
The big difference in cost was down to money in the last parliamentary session being shifted from facilities management to help support new MSPs.
Mr McArthur, who sits on the Scottish Parliamentary Corporate Body, explained: "The budget for the previous year is around £400,000, so probably more in line with the £685,000 for the budget under consideration here.
"I think it's also probably worth bearing in mind that as the parliament ages, we're likely to see a general upward trend in that budget, just reflecting the kind of wear and tear of the building."
The expected rise comes amid a wider drop in the overall budget, with spending at Holyrood due to fall by £1.5m in a year.