NI's Peter Robinson in plea to Scots to 'stay with UK'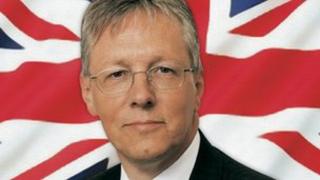 Northern Ireland's first minister has called on Scots "to reject separation" and remain part of the United Kingdom.
Peter Robinson believes Scotland's departure would have a "major impact on the Union".
His comments to the BBC came in light of Scottish government plans to hold an independence referendum towards the second half of its five-year term.
A spokesperson for Scotland's first minister said Mr Robinson supported the Union and was entitled to his view.
Mr Robinson is leader of the Democratic Unionist Party (DUP) and is first minister in a power-sharing government with Nationalists and Republicans.
In an interview following his party's annual conference, he said: "I think we have to be watching what is happening in Scotland.
"Isn't it an unusual situation that here we are in Northern Ireland and the concern is that Scotland may opt out of the union?
"I think we will play a full part in encouraging our Ulster Scots brethren and sisters to be part of the Union, to reject the notion of separation.
"I believe that ultimately sense will prevail and that they will remain within the kingdom and play a full part in it."
'Profound change'
After the Scottish National Party won overall control of the Scottish Parliament at the May election, First Minister Alex Salmond confirmed his government would hold a referendum on whether Scotland should leave the union.
He has not named a date for the poll or how many questions will be on the ballot paper, but he said it would take place in the latter part of the parliament.
Following Mr Robinson's comments, Scottish Labour leader Iain Gray said that many people across the UK from "different backgrounds and different walks of life" would be watching "what us Scots decide".
He added: "If Scotland does choose to separate from the rest of the UK, that will be a major and profound change which affects everyone on these islands.
"But this is not a decision for politicians here or elsewhere - it is a decision for the Scottish people - and on an issue this important, there should be one simple question for the people of our country to choose."