Poor areas to be given control of unused public assets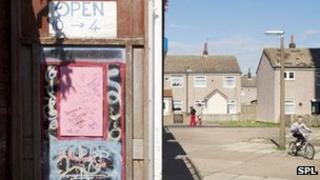 The Scottish government is looking at creating a law giving deprived communities control of unused publicly-owned assets and derelict properties.
The plan appears in a new £175m blueprint for tackling problems in the country's most deprived areas.
The SNP's regeneration strategy also contains details of a £50m fund providing loans for regeneration projects in 13 eligible areas.
Infrastructure and Capital Investment Secretary Alex Neil revealed the plan.
The Community Empowerment and Renewal Bill will come before the Scottish Parliament in the 2013-14 parliamentary year.
The legislation promises to "help support local people to unlock their potential for driving change on their own terms".
The government wants to make it easier for communities to take on ownership of unused and underused publicly-owned assets.
It also wants communities to be able to do more about vacant and derelict property in their neighbourhoods.
The £50m Spruce (Scottish Partnership for Regeneration in Urban Centres) fund was created with the European Commission and the European Investment Bank, through Scotland's Jessica (Joint European Support for Sustainable Investment in City Areas) fund.
Speaking at the strategy's launch in Glasgow, Mr Neil said it was "an ambitious programme, which seeks to transform the prospects of whole communities".
He added: "Investment of £175m is just one aspect of the programme.
"Across the Scottish government we are also investing heavily through roads, housing, education and training, to improve the standard of living and opportunities for people living in Scotland as demonstrated by the Infrastructure Investment Plan last week.
"It is not something we can achieve alone, and we will require a great deal of partnership working and cooperation to fully realise the economic potential of Scotland's communities. Importantly, we will put the communities themselves at the centre of this process."
Labour's Lewis Macdonald said that while it was important to make funds available for regeneration projects, he questioned whether the announcement was about new money.
He said: "At first sight this looks like another reannouncement by Alex Neil, something which is becoming a habit with him. What I want to know is if this is new money and when we can expect an announcement on where it will be spent?"