NHS funding 'cut in real terms' says Audit Scotland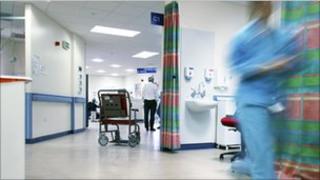 NHS funding in Scotland is falling in real terms despite the government putting more cash into services, the public spending watchdog has said.
Rising inflation has seen a real terms reduction of 1.4% in health service funding over the past year, according to a report by Audit Scotland.
It said the performance of the NHS was "good" but warned significant financial pressure was building.
Protecting frontline health services is a key Scottish government commitment.
Health Secretary Nicola Sturgeon blamed the UK government for inflicting deficit-reducing spending cuts on Scotland.
NHS spending north of the border, which amounts to more than £11bn, makes up about a third of the annual Scottish budget.
The health service is facing increasing pressure, with spending cuts kicking in and the cost of treating patients and medicine increasing.
Scotland's population is also expected to rise by 10% in the next 25 years, bringing with it an increase in number of older people.
The Audit Scotland report stated the NHS budget went up by £232m in 2011-12 in cash terms.
However, with RPI inflation running at above 5% throughout 2011, the rise in funding has been swallowed up by increases in prices.
The report said: "Although cash funding for the NHS continues to increase, higher inflation means that funding is decreasing in real terms.
"There has been a 1.4% real-terms decrease in funding between 2010-11 and 2011-12."
The report added: "The Scottish government's 2011 spending review outlined a 4.2% real-terms decrease in NHS funding in the five years to 2014-15."
Audit Scotland said spending on the 14 local health boards had gone up by 1.3% in 2011-12, the amount of cash for special NHS authorities, such as NHS 24 and the state hospital at Carstairs, had seen a 3% reduction.
The watchdog said that while all NHS bodies met their financial targets, 10 of the 14 local boards reported a deficit.
The report also said the capital budget, used to maintain NHS Scotland's £4.6bn estate, made up of land and buildings, such as hospitals and health centres, was reduced by 13% between 2010-11 and 2011-12 to £474m.
It said it would fall further in real terms to £215m by 2014-15.
To save cash, NHS bodies have frozen pay and reduced staff through recruitment freezes and voluntary redundancy.
Scotland's auditor general Robert Black said: "At a national level, we are seeing a good picture of the performance of the NHS in Scotland.
"In 2010-11, all NHS boards met their financial targets for the third year in a row, and there is continued progress against the 'big three' diseases of coronary heart disease, stroke and cancer.
"However, it is clear that there are building pressures in the system from increased costs and rising expectations and demand."
Miss Sturgeon said the report showed the NHS in Scotland was continuing to perform well.
"Despite swingeing Westminster-imposed cuts to the Scottish government's budget, we are delivering a good deal for the NHS in Scotland, with core budgets of our territorial health boards increasing in real terms, while we have fully delivered our commitment to pass on Barnett resource consequentials to health."
"This means we can maintain and continue improving frontline services by supporting initiatives to help people in Scotland live longer and healthier lives with reduced health inequalities and improved life expectancy."
Theresa Fyffe, of the Royal College of Nursing in Scotland, said: "It is clear to us that health boards cannot continue to save money by reducing the size of the NHS workforce, unless it wants to put at risk standards in patient care."
Health budget
Labour health spokeswoman Jackie Baillie said: "This report simply confirms what Scottish Labour has been saying for some time now that the brunt of the job losses over the past two years has been borne by nurses and midwives."
She added: "The BMA is calling for a serious debate about what the NHS can and cannot afford.
"In the context of a cut in real terms of £319m from the health budget and a reduction of 4,000 in the number of staff, we would welcome the opportunity for such a debate."
Scottish Conservative health spokesman Jackson Carlaw said an alarming number of nursing and midwife staff reductions had been made.
He said: "We must always ensure that our NHS provides the best possible care to the patients of Scotland but reducing the number of key frontline staff will undoubtedly have a negative effect.
"The SNP wasted £50m of the NHS budget on free prescriptions that should have been used in maintaining the level of patient care that is provided.
"Nurses and midwives carry out key roles in patient care and instead of pursuing these populist policies they should be saving these staff from redundancies."
Scottish Liberal Democrat health spokesperson Alison McInnes said: "Budgets are tight right across the NHS but there is room to save money so it can be spent more effectively on frontline services.
"Getting a grip of high pay needs to be a top priority for the Scottish government. We revealed last week that the NHS pay bill for the highest earners had gone up by over £10m in the last year.
"If we tackle issues like this now, we can free up valuable resources for the future and protect frontline staff and services."