Lockerbie bomber protests innocence in 'last' interview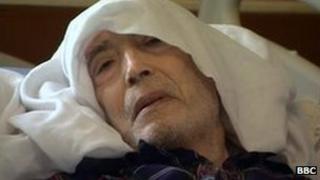 Abdelbaset al-Megrahi has given what he described as his "last interview" and again denied any involvement in the Lockerbie bombing.
Megrahi is the only person to have been convicted in connection with the 1988 attack, which killed 270 people.
He was released on compassionate grounds in 2009, after being diagnosed with cancer, and returned to Libya.
Megrahi said: "I am an innocent man. I am about to die and I ask now to be left in peace with my family."
The interview with Megrahi was filmed by investigator and former police officer George Thomson.
It was published shortly after a memorial service, marking the 23rd anniversary of the atrocity, was held in the United States.
Scotland's Lord Advocate Frank Mulholland travelled to the US for the memorial and laid a wreath on behalf of the people of Scotland.
He also made a speech in remembrance of the victims of the atrocity and met their relatives.
Earlier this week, he met FBI director Robert Mueller and US attorney general Eric Holder to discuss the opportunities for stepping up the investigation in Libya into the bombing.
Mr Mulholland said: "I think I would be failing in my duty if I didn't properly seek to take advantage of the opportunity that has opened up with the fall of Gaddafi.
"I am determined to get the answers these families deserve."