Anti-apartheid campaigner Janey Buchan dies aged 85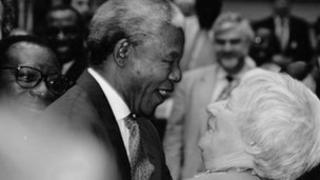 Former Glasgow MEP and anti-apartheid campaigner Janey Buchan has died at the aged of 85.
The grandmother and great-grandmother was a Scottish Labour member in Brussels from 1979 to 1994 when she retired.
Mrs Buchan's son Alasdair confirmed to the BBC that his mother had died in Brighton at the weekend.
She was the wife of the late Norman Buchan, who was a Labour MP in Paisley for 26 years until his death in 1990.
Mrs Buchan was born four days before the start of the General Strike in 1926 to her shipyard worker father, Joseph Kent, and her mother Chrissie Sinclair.
She left school at the age of 14 and met her future husband when they were members of the Young Communist League.
The couple both left the Communist Party in 1956 and eventually joined the Labour Party.
Mrs Buchan was a councillor on Strathclyde Regional Council from 1974 to 1979, when she was first elected to the European Parliament in the first elections, in 1979.
While serving in the parliament she was a member of the culture committee. She was also involved in the Scottish Arts Council and Scottish Gas Consumers Council.
Mrs Buchan's son said she had a variety of interests, particularly South African affairs, the arts and gay rights.
A funeral service will not take place for Mrs Buchan as her body has been donated to medical science.
On hearing of Mrs Buchan's death, Scottish Labour Party Leader Johann Lamont said: "She was wonderful warm, passionate, generous, endlessly energetic and absolutely committed that politics was about real people and families. She saw the Labour Party as a mission to improve people's lives.
"She also had a huge commitment to the arts, and believed that no culture was beyond people, but that also there was a culture of the people. She had a deep commitment to the battle against apartheid and to rid the world of nuclear weapons.
"She taught me so much. Janey stands out in my mind as someone whose politics was about the vision of the world and not herself. Her political legacy is how she shaped the thinking of a generation."
Former Labour prime minister Gordon Brown said that in every position she held, the former Labour MEP "fought hard and ceaselessly for equality".