Alex Salmond in climate justice call to world leaders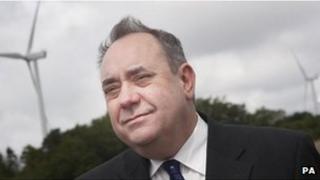 Scotland's First Minister Alex Salmond has called for "climate justice" to be central to decisions on energy and development.
He made his plea to leaders attending Abu Dhabi's World Future Energy Summit.
Mr Salmond explained that those countries least able to cope with extreme weather should not be further disadvantaged in global energy policy.
The SNP leader also called for binding greenhouse gas reduction targets to help give certainty to businesses.
During his visit, Mr Salmond met with UN Secretary General Ban Ki Moon and Premier Wen of China.
He took part in a majilis - a public audience held by the ruler Mohammed bin Zayed Al Nahyan Crown Prince of Abu Dhabi.
The gathering has been discussing energy security, sustainability and the transition to a low carbon future.
Mr Salmond said: "Scotland's energy challenges and champions make us a leader in the international sustainability debate. We are also world leaders in the transition to a low carbon economy and in particular the renewables revolution.
"It is only fitting that we should be part of the foremost annual meeting committed to finding solutions to the energy needs of the future."
The first minister added: "It is vitally important that, as the world moves towards economic recovery in 2012, we place climate justice at the very heart of the decisions we make on energy policy and economic and social development in the coming months.
"I believe we have a once-in-a-generation opportunity to enshrine this important principle - that economic development should be linked to human rights - in global energy policy, ensuring that countries and communities least able to cope with the extreme weather events climate change brings are not further disadvantaged.
"In the run up to the UN Rio+20 conference in Brazil in June and beyond, I am calling for climate justice to be made central to decisions taken by major countries on energy and development.
"Given that one of the themes of this year's conference is linking the green economy to sustainable development, an important part of Scotland's contribution to Rio+20 will be to champion climate justice."
Scotland has made a commitment to reduce greenhouse gas emissions by 80%, from 1990 levels, by 2050. It also has an interim target of reducing emissions by 42% by 2020.
The World Future Energy Summit, which promotes advancement of renewable energy, is now in its fifth year. More than 26,000 people attend, including 3,000 delegates.