Scotland's Lord Hamilton submits view on Supreme Court role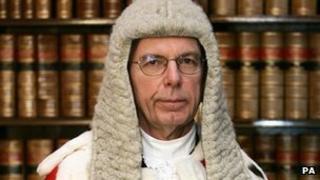 The High Court should be able to decide which criminal appeal cases can be referred to the UK Supreme Court on human rights grounds, Scotland's most senior judge has said.
The Lord President Lord Hamilton made his plea in response to Westminster's Scotland Bill consultation.
He believed his reform would bring Scotland in line with England, Wales and Northern Ireland.
The Supreme Court's role in Scottish cases has attracted criticism.
The London-based court attracted controversy for a ruling, known as the Cadder judgment, on the rights of suspects to legal representation in Scotland.
The row erupted again in May in the case of Nat Fraser.
Five justices in the court in London said Mr Fraser's conviction for the 1998 murder of his wife, Arlene, should be quashed.
Fraser, 52, from Elgin, now faces a retrial.
In a written submission to the government, Lord Hamilton says: "I urge parliament to provide in the Scotland Bill an amendment to the Scotland Act 1998 so as to extend the jurisdiction of the Supreme Court in Scottish criminal appeals and references to the remedying of infringements of the European Convention by the courts below as well as by the prosecutor.
"But to restrict those cases in which leave may be granted to appeal to the Supreme Court from the High Court of Justiciary to cases in which the High Court has certified that a point of law of general public importance is involved in the decision."