Addressing the English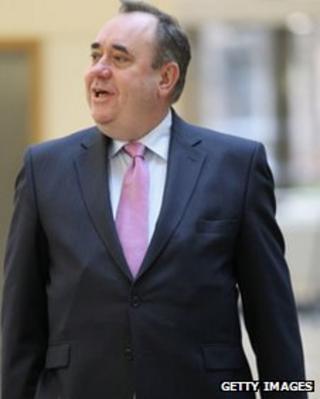 Is there a market for Scottish independence in England?
Alex Salmond will test that proposition in a speech in London tonight when he delivers the Guardian lecture in memory of Hugo Young.
In passing I might mention that I was fortunate enough to know Hugo Young slightly when, as a child reporter, I worked in the Commons in the early 1980s.
He was an astute and brilliant political analyst. But, more than that, he was an exceptionally thorough journalist, taking careful notes of every discussion he had with politicians, checking and rechecking.
But to our tale. The Alex Salmond speech. His pitch is rather more subtle than to suggest that the English should seize the chance to govern themselves - although, of course, that argument is not infrequently voiced by Scottish Nationalists.
Rather, he is aiming directly at progressive opinion south of the Border, arguing that Scotland could be a "beacon" for such thinking, if given the power of independence.
He argues further that this would be more advantageous to the progressive cause, however defined, than despatching a posse of Labour MPs from Scotland to Westminster.
This latter point is a deliberate counterpoint to an argument which one occasionally encounters - including, in the past, in the pages of The Guardian.
Distilled, the claim is that Scotland should not be independent - because England would be governed by the Tories forever.
I imagine that Mr Salmond's focus is more upon the democratic choice confronting Scotland than upon the potential electoral consequences for the rest of these islands.
'Social union'
But, in emollient mood, he appears to feel the need to persuade elements of opinion in England.
More broadly, the speech tonight is aimed at cajoling England into tolerating the independence project which he will advance tomorrow by publishing a consultation paper on the referendum.
He will argue that "independence for Scotland would still leave us free to work together in the many areas where we do share common values and interests."
A "social union" of friendship and family, he argues, would supplant the dissolve Parliamentary union.
That is a message which Mr Salmond hopes will resonate on both sides of the border, addressing the English but simultaneously seeking to reassure fretful Scots.
Those who defend the existing Union, of course, will counter that, in opting for the social version, the people of Scotland and England would both shed advantages in common.