Scottish government unveils youth unemployment strategy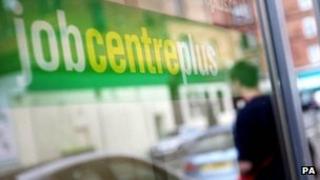 The Scottish government has unveiled how it plans to tackle youth unemployment, which is at its highest for a generation.
The jobless rate north of the border stands at 231,000, with 88,000 falling into the 18-24 year old category.
New Youth Employment Minister Angela Constance revealed her draft strategy during a visit to two employers.
Labour's Kezia Dugdale said the country was facing a youth unemployment crisis.
She called for the purse strings to be loosened and for more to be done to get young people into work.
Ms Dugdale told BBC Radio Scotland's Good Morning Scotland programme: "There is no doubt this is nothing short of a national crisis the number of young people unemployed in Scotland is absolutely shocking and rising, up 8,000 in the last three months."
She added: "I met a 23-year-old man yesterday who has got two kids - he doesn't want unpaid work experience, he wants the chance of a job. He wants the opportunity to make a better life for himself and his family's future."
Ms Constance, whose post was created last month to tackle the growing number of out of work young people, visited The Marriot Hotel in Glasgow and Hewlett Packard in Erskine.
She said the Scottish government would support more young people through the introduction of the Opportunities for All programme.
In her draft strategy Ms Constance also said there would be;
a clear and targeted approach to support young people as they look for jobs
the development of opportunities within the apprenticeship programme
targeted support to help young people get jobs in the energy and the low carbon economy
support through the My Work Coach, which is under development by Skills Development Scotland
and financial support to employers to encourage them to employ young people from disadvantaged groups
The minister said: "The strategy sets out my plans to harness spending and work across the government as well as other important actions such as developing a single simple national offer to employers and working with a wide range of partners who can make a difference.
"We will have a particular focus on helping hard-to-reach groups, as well as supporting those who are closest to the job market and will benefit from simple measures to help them into employment.
"I would encourage organisations and individuals with an interest and who have ideas to get involved in this discussion and think about what part they can play in providing our young people with a brighter future."