Opposition party leaders unite over same-sex marriage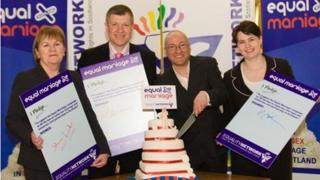 Scotland's opposition party leaders have voiced support for same-sex marriage.
Labour's Johann Lamont, the Tories' Ruth Davidson, the Lib Dems' Willie Rennie and Scottish Green Patrick Harvie are united on the issue.
SNP ministers also back same-sex marriage, but many church leaders have voiced opposition to it.
The government's consultation on the issue attracted 50,000 responses.
Those responses are now being analysed and ministers will decide during the coming months whether there should be a change to the law.
Same-sex couples in Scotland currently have the option to enter into civil partnerships but cannot get married in a church.
The four opposition party leaders signed the Equality Network's Equal Marriage Pledge.
Tom French, from the Equality Network, said: "We are delighted that leading politicians from across the political spectrum have united for equal marriage.
"We know that a majority of Scots back full equality for lesbian, gay, bisexual and transgender people.
"The principles of equality, and freedom of religion, are surely integral to that.
"With the support of all opposition leaders, and a clear majority of the public, the Scottish government now have all the backing they need to move forward with legislation."
However, the Church of Scotland has expressed worries about the "speed with which the government is proceeding on this issue" believing the debate to be "patchy, underdeveloped and exclusive of both ordinary people and the religious community".
The Roman Catholic Church in Scotland has insisted that marriage is an institution that "long predates the existence of any state or government".
Cardinal Keith O'Brien has previously said: "It was not created by government and should not be changed by them. Instead, recognising the innumerable benefits which marriage brings to society, they should act to protect and uphold it, not attack or dismantle it."