Scottish independence: New date for referendum talks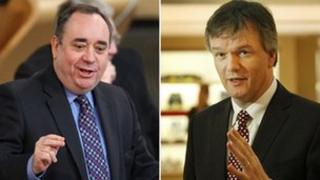 A new date has been set for talks between Scottish First Minister Alex Salmond and the UK government's Scottish Secretary Michael Moore about the independence referendum.
Mr Salmond and Mr Moore will meet in Edinburgh on Monday 13 February.
The pair had been due to have a discussion in the city a week ago, but it was cancelled because the Scottish secretary had chickenpox.
The Scotland Office said a new date for the meeting had been arranged.
The SNP leader and the Lib Dem MP were originally scheduled to meet just days after Mr Salmond set out the question he would seek to ask in the independence ballot, which he wants to hold in autumn 2014.
Their discussions will start the process of establishing the ground rules for carrying out a referendum.
The SNP leader is also keen to speak to Prime Minister David Cameron and has suggested a meeting as soon as possible after talks with Mr Moore.
Mr Cameron sparked the heated cross-border exchanges of the past few weeks by calling for an early vote to settle the constitutional question.
As well as disagreement on the timing, there has been a clash on the referendum question, with Westminster preferring a straightforward yes or no to independence while the Scottish government is open to including an additional option of further devolution, known as "devo max".
While the SNP administration insisted it could hold a referendum on independence for Scotland, the Tory-Liberal Democrat coalition at Westminster argued that Holyrood had no power to stage such a vote.
The UK government has also launched its own consultation on proposals it has put forward to temporarily extend Holyrood's powers to enable it to hold a ballot.
However, this has been rejected by Mr Salmond's government because of the "strings" attached.