Mike Russell discusses delaying of new exams with EIS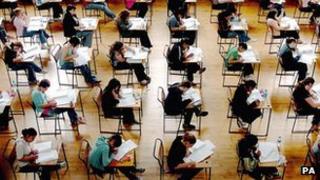 Education Secretary Mike Russell has held "positive" talks with Scotland's biggest teaching union over its calls to delay the introduction of new exams at secondary schools.
The proposal by the EIS follows the decision by East Renfrewshire Council to postpone the exams by a year, to give schools more time to prepare.
The union believes the one-step move to Nationals is "fraught with danger".
Mr Russell has said he wants uniform implementation of the new exams.
The exams are linked to the Curriculum for Excellence framework.
Current second year high school pupils should be the first to sit them in 2014, with the qualifications replacing standard and intermediate grades.
But East Renfrewshire Council is delaying the introduction of the new exams, saying it is still not clear what form they will take and that it wants more time to train teachers.
The EIS has said it supports the introduction of the new qualifications, but is asking the education secretary to allow schools to take more time to prepare if they want, including the option to postpone their introduction for a year.
Following the discussions, Mr Russell said: "I welcome the positive initial discussion with Larry Flanagan and EIS.
"During our discussions I expressed the Scottish government's renewed commitment to ensuring that every teacher gets the support they need, when they need it, and where they need it.
"Our existing provision of targeted exemption for any subject department remains unchanged.
"Individual subject departments in schools are able to raise any concerns that they may have with the local education authority."
He added that he would secure more support for any aspect of the Curriculum for Excellence programme, if necessary.