Scottish independence: Alistair Darling backs further devolution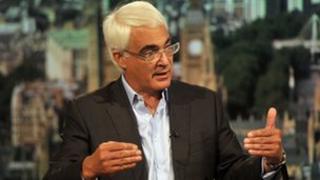 Former Chancellor Alistair Darling has backed further devolution for the Scottish Parliament.
Mr Darling told BBC Scotland he believes some tax powers should be devolved in the event of a no vote in the independence referendum.
Prime Minister David Cameron has also suggested increased powers could follow a no vote.
First Minister Alex Salmond has called on Mr Cameron to "set out the terms" of his offer of further devolution.
Both Mr Darling and the prime minister said the details of any increased devolution of powers should wait until after the referendum ballot.
But Mr Salmond said any proposals need to be outlined before the Scottish government's consultation on an independence referendum ends in May.
'Essential' powers
Speaking to the BBC's Sunday Politics Scotland programme, Mr Darling said any parliament having the power to spend money, should also "take the pain" of raising it.
He said: "Making choices between what you spend your money on, how much tax you have to raise, that's absolutely essential in my view."
Mr Darling said income tax would be one obvious choice for transfer to Holyrood, but a range of taxes could be examined.
"I don't think anybody would argue that the status quo, what we have at the moment, is satisfactory," he added.
"It was fine in 1998, things have moved on, the constitution is always something you need to look and see what's best, but the first thing you have to ask before you get on to any change at all is are we staying in the UK, or are we going to leave."
Mr Darling, who told the Scotland on Sunday newspaper he anticipated playing "a major role" in the pro-union campaign, also called for the independence referendum to be held sooner than the SNP's proposed 2014.
Cards 'face up'
Speaking earlier on the show, Scottish Secretary Michael Moore said the debate about more powers was important, but the central issue of independence needed to be decided quickly and decisively.
He said: "It's not just about us setting out what the alternative will be, I think the important thing is that there can be further devolution, that's a great step for us to be contemplating.
"But the SNP have failed so far to spell out what an independent Scotland would look like and what all the different issues around the currency and defence would be as well."
The prime minister said earlier this week more powers may be handed to Holyrood if voters rejected independence, but Mr Cameron said it would be a question "for after the referendum".
Mr Salmond has now called on Mr Cameron to "spell out" the terms of his offer of an alternative to independence before the SNP consultation ends.
A spokesman for Mr Salmond said: "David Cameron himself has now said that more powers for Scotland, beyond the current Scotland Bill, are 'on the table'.
"If he has this card up his sleeve, he has a democratic obligation to put it on the table - and to place it face up, so that the people of Scotland can see what it amounts to.
"Not only does this apparent offer need to be in the public domain well before the referendum, David Cameron should spell it out within the timescale of the Scottish government's consultation on the referendum."