More crime cash to go to Scottish youth projects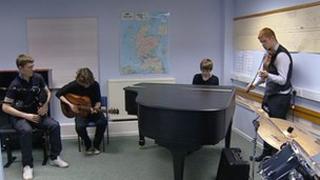 A further £1m of criminals' cash will be put back into community youth work projects over the next two years, Justice Secretary Kenny MacAskill has announced.
This brings the total funds from the proceeds of crime allocated to the CashBack for Communities Youth Work Fund to more than £7.5m.
Funds have been distributed to 641 groups, through YouthLink Scotland.
Mr MacAskill said it was "only right" that the money helped young people.
"Organised crime brings misery to individuals and communities," he said. "It is only right that bad cash confiscated from criminals is put to good use improving lives, increasing chances for young people and keeping kids out of trouble."
Self confidence
He said the latest round of funding meant that more than £45m of criminals' cash had gone towards "getting bored kids off the streets and into positive activities".
"Our CashBack programmes improve self confidence and self esteem for our young people, while supporting and turning around communities worst hit by crime and anti-social behaviour through an ever growing series of sports and cultural diversionary activities," the justice secretary added.
Jim Sweeney, chief executive of YouthLink Scotland, welcomed the announcement.
He said: "For the many young people and communities it engages with every day, youth work represents the ultimate form of preventative spend and can often help to improve the employability chances of the young people it works in partnership with.
"CashBack funding has so far supported more than 640 individual youth work organisations from across Scotland to engage with young people and help to build their skills, self-confidence and sense of community cohesion through a range of challenging and exciting activities."
He added: "It has become a catalyst for first-class partnership work underpinned by meaningful involvement from local communities and I am glad that this fund will be continued over the next two years."