Lib Dem Treasury minister Danny Alexander says 'be proud' of coalition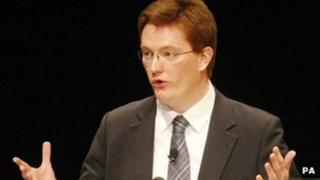 The Chief Secretary to the Treasury has told delegates to the Scottish Lib Dem conference in Inverness that they should be proud to be in coalition.
Danny Alexander said the party had won "real economic credibility".
In his speech to delegates, the Highlands MP said the Lib Dems were helping to deliver "big changes".
Mr Alexander highlighted investment in broadband, efforts to save cross-border sleeper trains, a cut to fuel costs and changes to the income tax threshold.
He said: "Be proud because we are delivering big changes that are making a real difference to the lives of people in every corner of the United Kingdom.
"Ignore our opponents. We have nothing to apologise for, and a record to shout about."
Looking to the next general election, Mr Alexander told the conference he wanted to push ahead with a pledge to raise the tax bar further from £10,000 to £12,500.
He said: "Within the tight fiscal discipline that we have set, our priority is to deliver more income tax cuts for people on low and middle incomes.
"For one very simple reason - it is the best policy that any political party in this country has to reward those millions of Scots who work hard, who play by the rules, and are facing real financial pressure right now. Liberal Democrats, those people are our people.
"It was on the front cover of our manifesto and is now putting money in the pockets of people who need it most.
"Last year, basic rate taxpayers saw their tax bill fall by £200. This April, it will fall by another £126. We will announce in the Budget how much it will fall by next year.
"Our goal in this parliament is a simple one. No one should pay any income tax until they earn more than £10,000. When we reach that goal, it will mean an extra month's wages every year for someone who earns £10,000 a year. That is real, practical help for hard-working families."
The treasury chief also warned there would be no "hiding place" for those who tried to avoid or evade tax - and he made it clear that such a tough approach would apply to Rangers and other football clubs.
He said: "People who dodge taxes are on the same moral plane as benefit cheats. Whether you are a wealthy person or a small business, a football club or a bank, our message is a simple one. You must pay the tax you owe, and we will make sure you do. There is no hiding place.
"As a party we are doing the right things in government. Sometimes not easy, but always right.
"Dealing with the deficit, fixing the economy, making the tax system fairer."