Scotland's 2014 Homecoming event given £3m budget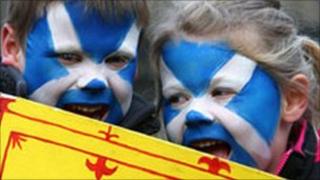 A budget of £3m will be made available for Scotland's second Homecoming extravaganza in two years time.
The 2014 event will take place in the year of the Commonwealth Games, the Ryder Cup, and the 700th anniversary of the Battle of Bannockburn.
The first Homecoming in 2009 was said to have generated £53.7m for the Scottish economy.
But the showpiece of that event, The Gathering 2009 Ltd, went bust after receiving £670,500 in taxpayers' cash.
The government said it was right to plough in public money because the Edinburgh clan gathering resulted in a £10m business boost.
The 2014 Homecoming will be themed around ancestry and the Scottish Government's Years of Focus (Food and Drink, Active, Creative and Natural).
'Momentous year'
Details of the event were made public by Tourism Minister, Fergus Ewing.
He said: "I am delighted that £3m will be invested in our events industry to create an inspirational programme of events for Homecoming Scotland.
"In 2014 Scotland will welcome the world as we stage two of the biggest sporting events - the Commonwealth Games and the Ryder Cup. This momentous year also sees Scotland's next year of Homecoming, giving people even more reason to be in Scotland and to extend their stay.
"Through EventScotland, the national events agency, and its work with industry partners this funding will be used to deliver a series of events that will take place across the country and throughout the year, appealing to visitors from around the world and to the people of Scotland."