Sharp fall in the construction of new housing in Scotland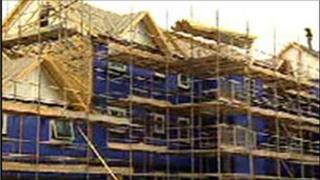 2011 looks likely to be the worst year for house building since records began according to new figures.
The complete records for the full year are not yet available.
However, July to September 2011 was the worst quarter for total house building since statistics were first published 15 years ago.
New council houses bucked the trend with a total of 886 completed last year - the highest since 1991.
There were a total of 3,395 house completions across the private, public and housing association sectors in the third quarter of last year.
This represented less than half the number of quarterly completions during the height of the housing boom in 2007.
Housing association completions also slumped to their lowest level since 2004.
The total number of houses to September 2011 was 10,552.
As there were only 1,086 social homes completed in the final quarter of last year, the private sector would require an unlikely year end boom to reach 2010's total of nearly 17,000.
Housing minister Keith Brown said: "The disappointing figures for completions across all sectors show that challenging economic conditions are continuing to have detrimental impact on house-building activity.
"We have committed to deliver 30,000 affordable homes during this parliament, at least two-thirds of those for social rent, and have put in place the funding to make that happen."
Graeme Brown, director of Shelter Scotland, welcomed the increase in new council houses but was worried by the overall drop in social housing: "It's good news that councils are building houses again.
"It's disappointing to see an overall decrease in new social house building, a fact that reflects the big economic decisions made in both London and Holyrood to cut investment in house building."