Nominations close in Scottish councils vote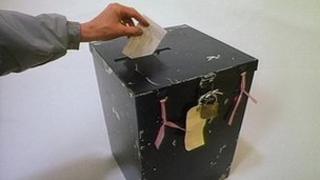 Nominations have closed for May's council elections - the first since devolution to be held separately from the election to the Scottish Parliament.
All 1,223 councillors at Scotland's 32 local authorities will be elected on 3 May.
A system of proportional representation allows voters to rank candidates in order of preference.
Each voter will be represented by three or four councillors.
The last time the council elections were not held on the same day as another major election was in 1995.
More people voted in council elections because they were held on the same day as the Holyrood poll - but some claimed local issues and council matters were often overshadowed by Scottish national politics.
The two votes have been "decoupled" to help reduce the chances of a repeat of the chaos at the 2007 count when 140,000 Holyrood ballot papers were rejected.
However some councillors fear the turnout this year could be very low.