Scottish independence: UK consultation backs early vote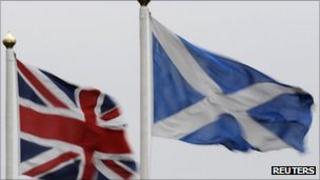 The UK government has said the majority of responses to its consultation on Scottish independence favoured a referendum sooner rather than later.
Some 70% supported holding the ballot before the Scottish government's preferred date in the autumn of 2014.
Both the UK and Scottish governments have asked the public for their views on the proposed independence poll.
The UK consultation had about 3,000 responses, while the Scottish one has had more than 10,000 replies so far.
It is not known how many of those support an earlier referendum.
'Common sense'
Scottish Secretary Michael Moore said only 22% of respondents to the UK consultation supported the SNP timetable.
The UK government favours an early referendum, and Mr Moore has suggested September 2013 for a vote.
He has urged Scottish National Party ministers to speed up their proposed timetable for staging the ballot in the autumn of 2014.
Mr Moore said: "Individual responses showed that Scottish citizens want this issue resolved quickly.
"Business responses show the strength of feeling that uncertainty is bad for investors, and there should be no unnecessary delay.
"This is common sense and I am pleased at the level of support for our position of holding the referendum sooner rather than later."
Among the responses, Mr Moore quoted CBI Scotland which said: "On balance, we believe that the referendum can and should be held sooner than currently planned."
'Proper procedures'
In response, a spokesman for Scottish government Strategy Minister Bruce Crawford said Mr Moore's timetable was "flawed and full of holes".
He said: "The independence referendum shall be held in autumn 2014, reflecting the proper procedures of the Scottish Parliament and allowing for a fully-informed debate on Scotland's future.
"It is simply not for the UK government to dictate the legislative timetable of the Scottish Parliament or the terms of the referendum - these are all matters to be decided in Scotland."
He added: "It would be totally inappropriate to enact a bill of this importance and magnitude between autumn and next March, without allowing for a proper period of parliamentary scrutiny."
Scottish Conservative leader Ruth Davidson said the people of Scotland "want to settle the question on separation as soon as possible".
The UK consultation ended in March and the Scottish government's consultation ends in May.
BBC Scotland political correspondent Raymond Buchanan says SNP ministers have told Mr Moore to back off, insisting that the referendum timetable should be a matter for the Scottish Parliament, not Westminster.