Scottish independence: Row over consultation responses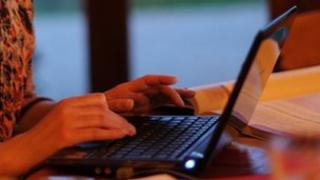 The SNP independence referendum consultation has been questioned after it emerged the public can submit multiple anonymous responses.
Labour claimed that the whole process could be rigged, but the SNP said multiple identical responses would be set out in the final analysis.
The Scottish government said there had been 10,000 replies so far.
Meanwhile, the UK government said its consultation suggested a desire to hold the vote earlier than autumn 2014.
Both the UK and Scottish governments have asked the public for their views on the proposed independence referendum.
The UK consultation has formally closed, while the Scottish government process will run until May.
'Open to abuse'
In a written answer to a parliamentary question, Scottish government Strategy Minister Bruce Crawford said: "Respondents can indicate on the respondent information form if they wish to remain anonymous.
"Any response submitted without a respondent information form will also be treated as anonymous."
Scottish Labour's deputy leader Anas Sarwar said anonymous responses meant the consultation was not only "open to abuse but designed for abuse".
The Scottish government said an external analysis of its consultation would be carried out, which would identify any multiple identical responses - anonymous or otherwise.
Speaking to the BBC's Sunday Politics Scotland programme, the SNP's Stewart Hosie said: "This is a big consultation, this is a public consultation, people can submit any response they want to and quite right too.
"These responses will then be considered by the Scottish government as part of the process to the referendum in 2014 and the idea that this has been rigged in any way is an absolutely appalling accusation by the Labour Party."
Mr Sarwar said: "This flawed consultation should be abandoned now. The first minister should immediately hold all party talks so that we can have a consultation which is free and fair as quickly as possible."
Scottish Conservative deputy leader Jackson Carlaw said: "This news gives new meaning to the old cliche 'vote early and vote often'. Claims of thousands now participating have been rendered risible."
'Scottish matters'
On the UK consultation, Scottish Secretary Michael Moore said that 70% of 3,000 respondents supported holding the referendum sooner rather than later.
He said only 22% of respondents to "The Referendum on Separation for Scotland" consultation, which closed on 9 March, supported the SNP timetable of autumn 2014.
Mr Moore said: "Individual responses showed that Scottish citizens want this issue resolved quickly.
"Business responses show the strength of feeling that uncertainty is bad for investors, and there should be no unnecessary delay."
A Scottish government spokesman said: "It is simply not for the UK government to dictate the legislative timetable of the Scottish Parliament or the terms of the referendum - these are all matters to be decided in Scotland."