Scottish council election: Parties join forces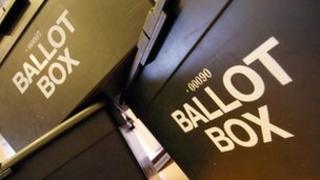 Scotland's political parties have urged members of the public to ensure they are properly registered to vote, ahead of the 3 May council elections.
The SNP, Labour, Tories, Lib Dems and Greens joined forces to make their plea, amid concern over a low turnout.
The Electoral Commission watchdog also warned many people mistakenly thought they were properly registered.
The body has launched a public information campaign to help ensure voters are ready for polling day.
SNP local government minister Derek Mackay joined Labour's Sarah Boyack, Patrick Harvie from the Greens, Lib Dem MSP Alison McInnes and Margaret Mitchell, from the Conservatives, on what has been dubbed "Register to vote day".
"Your local council makes decisions which affect you every day, from education to housing and from recycling to care services," they said in a joint statement.
"Whichever way you plan to vote at the local council elections on 3 May, you will need to be registered to have your say on the issues that matter to you."
Meanwhile, the Electoral Commission pointed to research indicating 44% of people who are not registered to vote think they are.
Those particularly at risk of losing the chance to have their say, said the organisation, were those who had moved house since last autumn, and younger people.
The commission, which is sending election information to Scotland's 2.5 million homes, said people had toensure they were properly registered to voteby the deadline of 18 April.
A system of proportional representation, where voters rank candidates in order of preference, is being used to elect 1,223 councillors across Scotland's 32 local authorities.
The 2012 council poll is being held on a different date to the Scottish Parliament election for the first time, to help reduce the chances of a repeat of the chaos at the 2007 count, when 140,000 Holyrood ballot papers were rejected.
But some councillors have expressed concern that the turnout this year could be very low.