Scottish council election: Issues facing Glasgow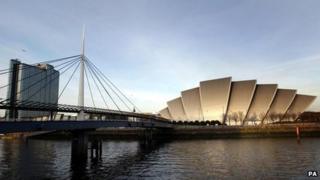 In many ways, Glasgow is at the centre of Scotland.
Once described as the second city of the British Empire, it rose to become a major shipbuilding centre.
In the years since the decline of heavy industry, Glasgow has developed an economy strong in the financial, education and hospitality sectors.
It also has a reputation for specialist manufacturing, and has a fast-growing niche in renewable energy engineering.
Scotland's biggest city is also going from strength-to-strength in other areas - it will host the Commonwealth Games in 2014, with the hope of securing a lasting, sporting legacy.
Yet Glasgow, like many other similar cities, also has its share of problems, with pockets of deprivation which are among the worst in the UK.
Local businessman Jim McPhie owns the only family run bakery in Shettleston, in the east of the city.
"It's not a great area, but people have still got pride, and they don't like to hear about how deprived your area is," he said.
"When I started 40 years ago there were 11 bakers within a five-minute radius - there are now 11 supermarkets."
As an independent employer, Mr McPhie said he was trying to do his bit for the local economy, in difficult conditions.
He said: "We have never received a penny for employing anybody, for training anybody - but we trade in the most difficult area in the UK to trade in."
Mr McPhie also argued businesses like his were key to economic recovery.
Delivering a message to the next council administration, he added: "We are the solution to get them out of this mayhem you've got yourselves into - it's wee companies like this that's going to take us out of that."
A few miles away in the Gorbals, efforts have been under way to try to alleviate the grinding poverty faced by some communities.
Brenda Sowney, who runs a project offering stress management, cookery classes and cheap, healthy food, said: "South-east Glasgow has really got an awful lot of deprivation and we're trying to get people away from buying pies and cheap stuff and start looking at their health and eating fresh fruit and veg."
With council elections coming up, Ms Sowney has one thing on her mind - the future funding of the project.
She explained: "The council needs to get back to where they were three years ago, where they would come down as see your project and give you the funding.
"Now, they're talking about putting voluntary projects out to tender."
There are big issues for Scotland's largest council to overcome and Stewart Patrick, head of Glasgow Chamber of Commerce, said the solution would not be simple or quick.
"Any large previously industrial city is faced with complex problems," he said.
"These are not problems you can switch on and off with different policies, these are problems that require very long term investment.
"Multiple deprivation isn't something that can be solved by one policy alone."
The economic and social issues are complicated - but so are the city's politics.
Striking a serious note, Glasgow-born comedian Susan Calman, said: "I'm not sure people could tell you who their councillor is or what their councillor does.
"I think one of the things is letting younger people who are starting to vote know what the council actually does.
"I'm not entirely sure the council as a whole properly sends out the message about why it's important that people vote."
Away from the streets, the city chambers have become a political battleground.
Labour managed to get its last budget through, despite having to cope with a rebellion which involved de-selected candidates, and the SNP is hoping for a chance to take control of the local authority.
The Conservatives and Liberal Democrats are also looking to increase their share of the vote.
John Curtice, professor of politics at Strathclyde University, said there were several potential outcomes.
He said: "The first is that the Labour party manage to regain control of the council.
"The second is that the SNP themselves gain overall control of the council - that's an outcome that is only going to happen if the results for the SNP are very much to the high end of expectation.
"Probably the most likely one is that Glasgow becomes a permanently hung council with neither Labour or the SNP having an overall majority."