Conservation plan for Sound of Barra 'being prepared'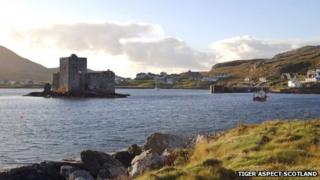 It has emerged that a management plan is being prepared for a conservation area in the Sound of Barra.
The Scottish government has said no final decision has been made on the proposal, which has been opposed by many local people.
Opponents have said they are concerned that the designation would restrict fishing in the area.
The Scottish Wildlife Trust has backed the idea of making the Sound of Barra a special area of conservation (SAC).
The government expects to receive a report on the plan from Scottish Natural Heritage by the end of the summer, after which a decision will be made.
The row over the conservation plan has been followed by viewers of the BBC's Island Parish series.
There are 40 existing marine SACs in Scotland.
In proposing that similar protection is given to the Sound of Barra, the Scottish Wildlife Trust said it was an area of European importance.
Alex Kinninmonth, of the trust, said: "The Sound of Barra is one of Scotland's wildlife jewels.
"The truth is that sustainable fishing will be able to continue in the Sound of Barra."
A Scottish government spokesman said: "No date has been set or timeframe put in place for the decision on the proposed Special Area of Conservation at Sound of Barra.
"A draft management plan is being prepared that takes account of the local economic, social, and cultural requirements, which will include engagement with local fishermen and communities involved.
"The aim is to complete this by the end of summer, but making the correct decision is more important than any timetable."