Catholic group hands gay marriage petition to Nicola Sturgeon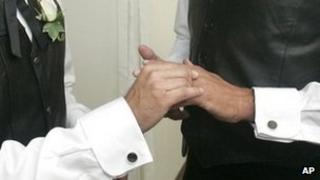 A petition signed by 1,000 people opposed to gay marriage has been presented to Deputy First Minister Nicola Sturgeon.
Representatives from an order of Catholic laymen handed it to the MSP for Glasgow Southside at her surgery.
More than 50,000 responses to the Scottish government's consultation on the issue are being considered.
The government has previously said it "tended towards the initial view" that same-sex marriage should be introduced.
This latest petition was organised by Catholic group, the Knights of St Columba.
They said they gathered the signatures from five local Catholic churches in Ms Sturgeon's constituency last weekend.
They presented them to the SNP deputy leader at her weekend surgery in Govan.
Organiser Brian Henry said: "We don't see any reason for a change in the law.
"The sanctity of marriage is one of our sacraments within the Catholic church and that is something that we, as a faith, hold very strongly to."
Under current legislation civil partnerships give same sex couples the same legal rights as married couples but the ceremony cannot be conducted in a church or other religious premises.
The proposed change in the law would make this possible.
A 14-week public consultation on the issue closed in December.
After receiving the petition Ms Sturgeon said no decision had yet been made.
She added: "Decisions will be taken in due course and, as the government has always made clear, if the decision is to legislate for same-sex marriage then there will be protections to ensure that no religious group is compelled to take part in same-sex marriage."
A spokesman for the Equality Network said he hoped the Scottish government would "listen attentively to the strength of the arguments made, and bring forward equal marriage legislation as soon as possible".