Expelled SNP MSP Bill Walker attends parliament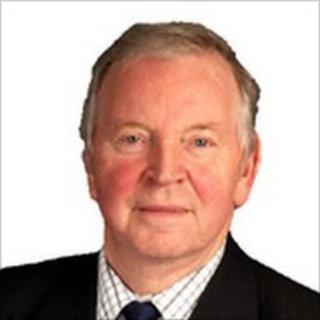 An MSP at the centre of domestic abuse allegations has attended afternoon business at the Scottish Parliament.
Dunfermline MSP Bill Walker was expelled by the SNP after it emerged his three former wives had accused him of physical violence.
He denies the claims and said he was the victim of an "orchestrated smear campaign".
Mr Walker, who is now an independent MSP, entered the main Holyrood chamber on Wednesday afternoon.
Meanwhile, SNP leader Alex Salmond has declined to comment on Mr Walker's future until after the party's appeal process was over.
Mr Walker, who has vowed to stay on at Holyrood as an "independent nationalist", had not taken party in parliamentary business since the allegations first emerged at the beginning of March.
The MSP turned up at parliament after 17:00, sitting at the back of the chamber and taking part in the vote on Wednesday's business.
Mr Walker refused to comment on his case, although earlier in the day, he issued a statement following further newspaper allegations made against him over the weekend.
He said he had tried to avoid "fuelling a media frenzy" regarding reported comments from two of his three former wives, but felt compelled to comment because of the "distressing" nature of the remarks.
"I have never assaulted anyone as claimed in various reports, and not a single allegation made against me has ever been tested in court," said Mr Walker, who is in his fourth marriage.
"My belief is that these allegations are part of an orchestrated smear campaign to which I shall not be succumbing.
"I shall continue to serve the interests of the people of my Dunfermline constituency."
Mr Walker has denied breaching SNP rules by failing to declare the allegations while filling out his application form to become an election candidate, which he said was completed in a "full and proper manner".
He was suspended by the SNP before later being expelled from the party, although he has the right to appeal the decision.
Asked if Mr Walker should stand down as an MSP, first minister Mr Salmond, told BBC Scotland: "The process in the Scottish National Party is not complete and I can't comment. Once that is complete we'll make a very full statement.
"He has been expelled from the SNP, but he has the right of appeal, and that process has a bit of a way to go."
Mr Salmond went on: "I think there's serious allegations concerning Mr Walker. He's no longer a member of the SNP - I've got no control over him.
"I don't actually think it is appropriate, I think my view is that he should complete the processes in the party, he should be looking at ways to clear his name - these are allegations after all - I think that would be a much better way to proceed.
"But one thing's for certain - he won't be sitting on the SNP benches."
A decision by Mr Walker to stand down as an MSP would trigger a by-election in Dunfermline.