Norovirus caused more than 1,000 Scottish ward closures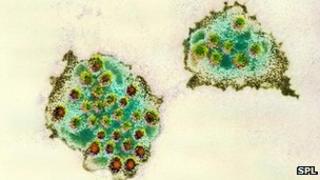 Winter vomiting bug has been the cause of more than 1,000 hospital ward closures since 2009, according to Scottish government figures.
The Liberal Democrats obtained the statistics to draw attention to the strain put on the NHS by norovirus.
The party's health spokeswoman Alison McInnes called for the bug to be given the same attention as MRSA and C.diff.
The Scottish government said the number of cases has been falling over the last three years.
Norovirus causes winter vomiting disease.
The virus lives in the gut and is passed from person to person by poor hygiene after going to the toilet. It can also be spread when someone is sick.
Patients with the bug are treated in wards closed to new admissions until the sickness passes.
NHS Greater Glasgow and Clyde recorded the most occasions when wards had to be closed, at 333 since 2009.
There were 231 in Lothian, 108 in Grampian, 91 in Ayrshire and Arran, 66 in Tayside, 64 in Fife and 56 in Highland.
Forth Valley recorded 45 closures, while there were 52 in Lanarkshire and 18 each in Borders and in Dumfries and Galloway.
There were no closures in Shetland and three closures in Orkney and in the Western Isles.
'Highly infectious'
Ms McInnes said: said: "The closure of wards is the right response to contain an outbreak of norovirus, but with non-urgent surgeries being cancelled because of closures the knock-on effects have a real impact on patients and the efficient running of our health service.
"It is vital that we reduce the number of outbreaks of the infection, which can be life-threatening to the vulnerable groups like our growing elderly population."
She added: "The Scottish government should ensure that people understand the highly infectious nature of the norovirus and give it the same attention as MRSA or C.diff.
"Only then will we be able to reduce ward closures across Scotland."
A government spokeswoman said significant work had been done to reduce cases as part of its Ready for Winter campaign.
She added: "However, norovirus is a highly contagious virus which can be challenging to control in even the cleanest of environments and closing wards to new admissions is one of the most effective ways of preventing spread further within a hospital."