Scottish council election: Why are so few women standing?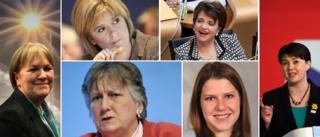 Fewer than one in four candidates standing in the council elections in Scotland are women, academics have reported.
Meryl Kenny and Fiona Mackay from Edinburgh University published the findings and labelled local Scottish politics "male, pale and stale".
One in seven contests on 3 May will be male only.
The report's authors said the figures were "sobering".
All the major political parties are fielding less than 30% of female candidates in the upcoming council elections.
In 56 of Scotland's 353 multi-member wards, there are no female candidates at all.
In the report Dr Kenny and Dr Mackay said the time had come for "tough action" on women's representation.
In their report they said: "It is widely accepted that men and women should play an equal role in political decision-making to ensure legitimacy, representativeness and quality.
"We need local councils that look like their communities and that also draw upon 'all talents.'"
The findings stated that the percentage of women councillors has flat-lined over the past four elections, at about 22%.
This figure is significantly lower than percentages of women elected to the Scottish Parliament, which stands at almost 35%.
Dr Kenny and Dr Mackay said women's representation was particularly important at a local level.
They said: "In times of austerity and welfare state retrenchment, in particular, it is crucial that women's voices and perspectives, in all their diversity, are included in the process.
"This is especially the case at the local level, where difficult decisions are made and cuts will hit hardest."
The report called for reform within Scotland's political parties - claiming that they play a key role in promoting women's political representation.
Dr Mackay said: "If Scotland is to make further headway, parties need to demonstrate that they are serious about changing the face of Scottish politics and also take determined action by introducing and implementing effective equality measures at local level."
Responding to the findings, political parties have highlighted new strategies for improving women's representation in future elections.
Scottish Labour has revealed a new 50/50 target for council candidates within eight years.
The SNP has promised a new equalities strategy including new guidance and advice to party branches and the establishment of a "women's academy".
The Scottish Liberal Democrats have a new future leaders programme, which they hope will encourage women's political participation.
The Scottish Conservatives said women would be encouraged to stand after seeing Ruth Davidson elected leader - the so-called "role-model" effect.
The Scottish Green Party, which is running 40.7% of female candidates, has gender balance mechanisms that are triggered if the percentage of female or male candidates drops below 40%, or where the distribution of winnable seats looks unequal.
While the report's authors welcomed the moves by parties to improve women's representation in politics, they said the findings suggested a change in law might be needed.
All-male council
The report said: "Has the time come to consider statutory quotas, by which we mean legislation which requires parties to take positive action on women's representation, following the example of countries like Spain, Belgium, France and even the Republic of Ireland, which is currently drawing up electoral quota legislation?"
According to the findings, the local authorities with the highest percentage of women candidates are Clackmannanshire, with 36.7% and Angus, with 34%.
Inverclyde, currently an all-male council, has only one woman standing out of 38 people, accounting for 2.6% of the total candidates.