MPs approve new Holyrood powers under Scotland Bill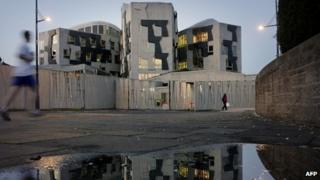 Plans to give Scotland new tax and borrowing powers have been passed by MPs.
The UK government's Scotland Bill will bring in a new Scottish rate of income tax and borrowing powers worth £5bn.
Prime Minister David Cameron said the legislation marked the most significant devolution of financial powers in Scotland's history.
The SNP, which is planning an independence referendum in 2014, said the bill fell short.
The Scotland Bill completed its passage through Westminster after being earlier endorsed by the Scottish Parliament.
Scottish ministers supported it, even although it said the legislation had been "bypassed by events".
The Scottish budget is currently wholly funded by a Treasury grant, and backers of the Scotland Bill say Holyrood will, in future, be more accountable for the cash it spends, by having to think about how it is raised.
It will bring in a new Scottish rate of income tax and borrowing powers worth £5bn, as well as devolving powers over air guns, drink-driving and speeding limits.
Mr Cameron, said: "I think this is a historic day for Scotland.
"We made a very clear promise that we would go ahead with this bill, which is the biggest act of fiscal devolution in Scotland's history, to give the Scottish Parliament far more responsibility to raise the money that it spends and we have delivered on that promise.
"So this is a great day for Scotland, a great day for the Scottish Parliament and a day when the government can put its hand on its heart and say we promised something and we delivered it."
Shadow Scotland Office minister Willie Bain said it was a "hugely significant bill".
But SNP Treasury spokesman Stewart Hosie claimed the bill left the country with fewer powers than Jersey or Guernsey.
"While welcoming any measure of increased autonomy, the Scotland Bill is a job half done," he said.
"In a week when the UK has been dragged back into recession by Westminster's economic mismanagement, the Bill is a missed opportunity to deliver the real job-creating powers that people in Scotland need and want.
"The bill was drawn up by the unionist parties before their defeat in the Scottish Parliament elections last year, and does not meet the aspirations of people in Scotland now."
The legislation is expected to receive Royal Assent next week, becoming the Scotland Act (2012).
It came about as a result of the work of the Calman Commission , set up to look at Scottish devolution 10 years on from its inception, in 1999.