Alex Salmond pressed over Rupert Murdoch meeting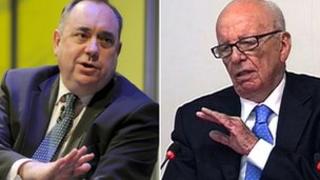 First Minister Alex Salmond has been accused of trying to "cover up" a meeting he had with Rupert Murdoch in New York.
News Corporation told the Leveson Inquiry into press ethics that the men got together during Tartan Week four years ago.
The engagement had not previously been disclosed by the Scottish government.
The Scottish government said there had been a "simple error", while Labour called for Mr Salmond to "come clean".
In written evidence to the inquiry, News Corporation detailed Rupert Murdoch's contacts with Mr Salmond.
Among meals and meetings, there was a breakfast in April 2008 when the pair apparently discussed Mr Murdoch's Scottish family roots.
At the inquiry on Wednesday, Mr Murdoch could not recall the occasion and it was missing from the first minister's voluntary declaration of meetings with media executives.
Scottish Labour's parliamentary business manager Paul Martin said: "Given the sensitivities around senior politicians' dealings with media executives in light of the phone-hacking scandal, I find it astonishing that the first minister failed to disclose a meeting with the man at the very heart of this scandal.
"A worrying pattern of behaviour is beginning to emerge where the truth must be dragged out of Alex Salmond."
A spokesman for the first minister said: "This meeting - which took place four years ago - was not included in the Scottish government's previously published meetings due to a simple error, and will now be included in our updated proactive publication of meetings with proprietors, editors and media executives which will be published shortly.
"In addition, the Leveson Inquiry's official record of Scottish government meetings contains errors which we have asked to be corrected."