Hoy and Obree back Holyrood cycle protest for safer roads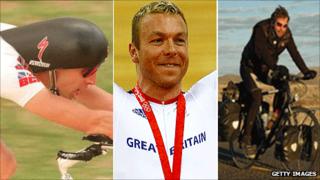 Cyclists from across Scotland are preparing to demonstrate outside Holyrood this weekend.
They are taking part in the Pedal on Parliament campaign which aims to make the country's roads safer.
The campaign was launched last month and has received support from the figures including Sir Chris Hoy and Graeme Obree.
The protest outside parliament comes after the deaths of two cyclists in Edinburgh this year.
Record breaking round the world cyclist, Mark Beaumont, will be taking part in Saturday's event which begins at the Meadows in the capital at 15:00 and is followed by a cycle to Holyrood.
The protestors are demanding proper funding for cycling, with routes being designed into Scotland's roads, safer speeds where people live, work and play and a reduction of the risk of HGVs to cyclists and pedestrians.
Protest organiser Kim Harding told the Good Morning Scotland programme on BBC Radio Scotland: "What we are trying to do is make roads safer for everybody.
"You can take the conflict out of the junctions."
A Transport Scotland spokesman said: "The Transport Minister addressed the cyclists who attended the 'Stop Climate Chaos' rally at St Andrew's House in Edinburgh back in January when he gave a commitment to listen and do more to help."