Scottish council election: Candidates in final day of campaigning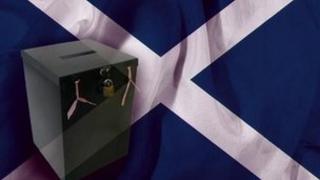 Candidates contesting the 1,223 council seats up for grabs in Scotland are ready to make a final push for votes.
It is the last day of campaigning ahead of the council election which, for the second time is using a single transferable vote (STV) system.
Polling stations will be open for voters between 07:00 and 22:00.
The Electoral Commission has repeated its advice that voters should number candidates in order of preference and not use a cross against one name.
Each voter gets one vote which can be transferred from their first to second preference, and further down the list if necessary, if the first has no chance of winning.
Unlike the first-past-the-post system, candidates do not need a majority of votes to be elected, just a share or "quota".
The votes are counted in stages. First time round, only first preferences are counted and anyone who reaches the quota is elected.
All of Scotland's 32 councils will be holding elections and the Electoral Reform Society said it was good news that no council seats in Scotland were being left uncontested.
There will be no overnight counting in Scotland. Ballot boxes will be emptied on Friday at a variety of council venues and electronic counting will be used to determine the outcome.
BBC Scotland news will deliver all the results live in radio and online broadcasts throughout Friday.